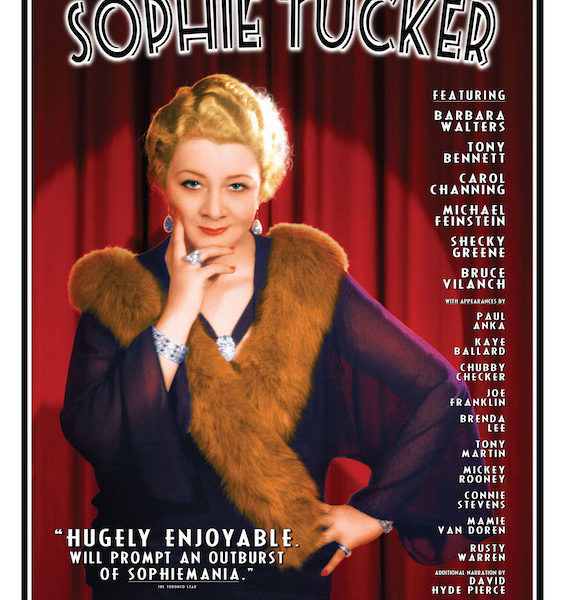 Long before Lady Gaga was pulling down her knickers on London stages, there was a bawdy blonde breaking boundaries named Sophie Tucker. Tucker was born Sonya Kalish in 1887. Her family soon fled Tsarist Russia and set up a new life in Hartford, CT, where Tucker started out singing for tips at her parents' restaurant. When she tried to make it in the Big Apple, she was told she was too homely. But Tucker zipped up her sequined gown and kept on crooning.

The Outrageous Sophie Tucker is a truly fun documentary about this dazzling showbiz icon from the turn of the century. The writers/producers, Susan and Lloyd Ecker, spent eight years poring through Tucker's 400+ scrapbooks and interviewing people who knew her, including Judy Garland. It also features such luminaries as Barbara Walters, Carol Channing, and Paul Anka.
Even though Tucker told many versions of the same story, this much is clear: she was hilarious, passionate, and impossible not to love. She was large and loud, opening the door for women of all shapes and colors onstage. Known as "The Last of the Red Hot Mamas," Tucker made sure everyone in the audience was having a grand old time.
Sophie Tucker opens all over the U.S. on July 24th. Watch the trailer here.