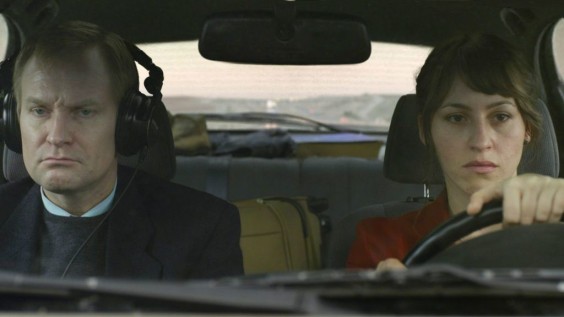 Israel had one entry in the 2015 Academy Awards: Aya, a quirky 39-minute movie in the Best Live Action Short category. It was beat out by the British film The Phone Call, about a helpline call center operator who receives a mysterious, life-changing call.
But Aya deserves to be widely seen. A young Israeli woman, Aya (played by Sarah Adler), is waiting at Tel Aviv's Ben Gurion Airport when a driver asks her to hold a sign bearing the name Mr. Overby. The driver disappears, and an attractive man (Ulrich Thomsen) approaches her. Aya decides to play along and pretend to be his assigned driver. He's a Danish music researcher heading to Jerusalem to judge a piano competition. He's reserved, she's impulsive, and as they drive, polite conversation gives way to intimate confessions.
Aya was directed by Mihal Brezis and Oded Binnun, the husband-wife team who met as students in Jerusalem's Sam Spiegel Film and Television School. Unlike recent Israeli Oscar nominees like Beaufort, Waltz with Bashir and Ajami, there is nothing obviously Israeli about Aya, and no political or religious undertones. It's simply a beautifully-made film about two strangers trying desperately to connect.
____
» Watch the trailer for Aya
» Read about the film's journey to the Oscars
» Learn more about the filmmakers
» Get to know French-Israeli actress Sarah Adler
____