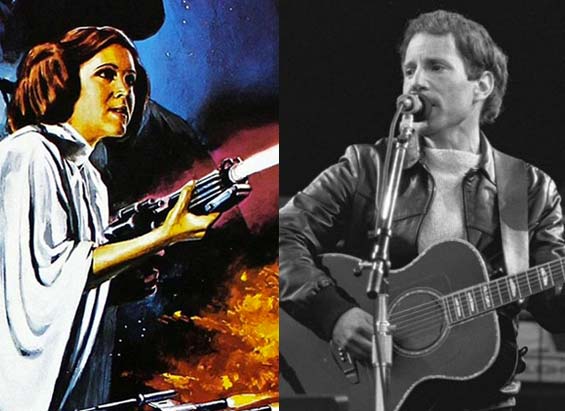 Let's do some math. "One and one-half wandering Jews / Free to wander wherever they choose" begins the title track of Paul Simon's album Hearts and Bones. Simon himself makes up one Jew, so who's the other half? None other than Carrie Fisher, aka Star Wars' Princess Leia.
The two dated for six years (with a brief break in which Fisher was engaged to Dan Aykroyd) and married in a traditional Jewish wedding in 1983 (with attendants ranging from George Lucas to Billy Joel). For their honeymoon a few months later, they sailed down the Nile River (and yes, Art Garfunkel was in the same boat). Fisher even appeared in Simon's music video for "Rene and Georgette Magritte with Their Dog after the War."
Just a year later, the one and one-half Jews wandered to a divorce, though they did continue to date for almost a decade after that. Hearts and Bones is largely thought to be Simon's "break-up album" about Fisher, featuring choice lyrics such as, "My heart is allergic / To the women I love," and "And the song ends / She moves on."
And Fisher's novel Surrender the Pink is said to be based on their relationship.
So while the marriage didn't last long, it did spark a number of great creative works. Now that's some good math.