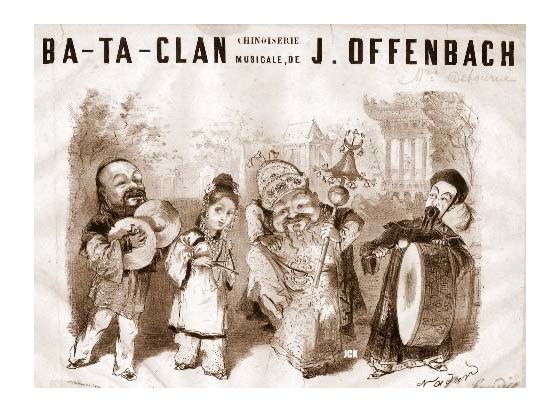 Haaretz writer Vivian Eden just unearthed an amazing historical factoid: the Bataclan, the stately Paris theater that is now synonymous with bloodshed and horror, takes its name from an operetta written and composed by two 19th-century Jews.
Born to a German cantor, composer Jacques Offenbach emigrated to Paris to study music. The libretto he famously set to music, "Ba-Ta-Clan," was written by his friend Ludovic Halévy, the son of a Parisian Jew who converted to Christianity for marriage. (Though with a name like Halévy we can't imagine he made a very convincing Christian.)
Halévy seems to have cast his own multilayered religious identity into the operetta, which revels in ethnic cloaking and mayhem. The storyline involves three Frenchmen masquerading as Chinese, and a French country "bumpkin with ambitions to rule," àla Napoleon III. The operetta opened in Paris in 1855 and eventually made it to Broadway under the dubious title "Ching Chow Hi." (Did we mention this is 19th-century ethnic humor?) The Bataclan music hall opened ten years later with a whole chinoiserie theme.
What does this all have to do with its current place in the tragic spotlight? Likely nothing. Though possibly of more consequence is the fact that the Bataclan's longtime Jewish owners, who recently sold the place, used to hold pro-Israel events there. Emphasis on "possibly."