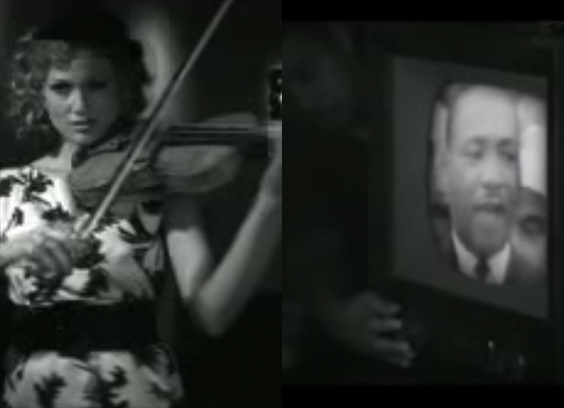 By now, the practice of auto-tuning the speaking voices of famous speeches (ref: musician John Boswell's unforgettable takes on Mr. Rogers and the late astronomer Carl Sagan), has become a mainstay of pop music. But Israeli-born violinist Miri Ben-Ari's 2007 single, "Symphony of Brotherhood," may be the first single where the Rev. Dr. Martin Luther King, Jr. is the "featured" artist – playing second fiddle, if you will.
The instrumental track, Ben-Ari's own composition, is set to Dr. King's "I Have a Dream" speech – and takes its title from the speech's final sentences. As the song starts, Ben-Ari's violin picks up on his famous vocal cadences before turning to a refrain. The song's music video imagines the speech changing America's racial reality in real time: as Ben-Ari plays, in a bar, accompanied by a black pianist and the broadcast of Dr. King's speech, one of the establishment's employees paints over a "Whites Only" Sign and replaces it with one that says "Musicians Wanted."
Despite her deft musical response to Dr. King's words, the video's narrative feels slightly out of touch with the glacial reality of American racial progress. But rather than proving her naïveté, we can read the music's hopefulness and the swiftness of the video's changes comprising a wish for a better reality.
____
» Learn about the role of Jews in the Civil Rights Movement
» Consider the story behind "I have a dream."
» Read some reflections of Black Jews on the legacy of Dr. King
____
Watch Mr. Rogers, remixed by John Boswell:


Watch Miri Ben-Ari's 2007 single "Symphony of Brotherhood":


Watch the Rev. Dr. Martin Luther King's "I Have a Dream" speech: