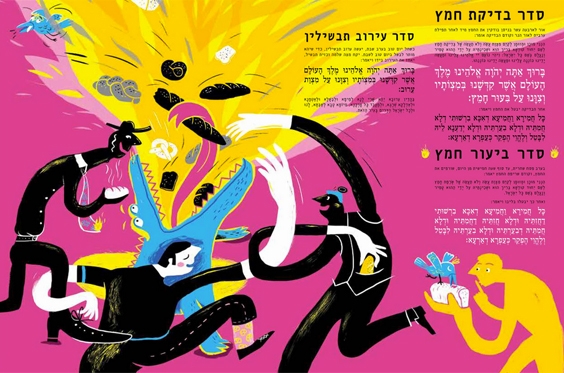 Asufa is an Israeli design collective. Each year, they collect a rowdy cadre of over 40 Israeli artists and they release a Passover haggadah.
Each artist is given a different part of the haggadah to depict. There are only two rules:
1) Each artist may only draw a single page; and
2) The artist must use the traditional Haggadah text.
As you can imagine, that's about the only part of this vivid and startling Asufa Haggadah that could be called traditional.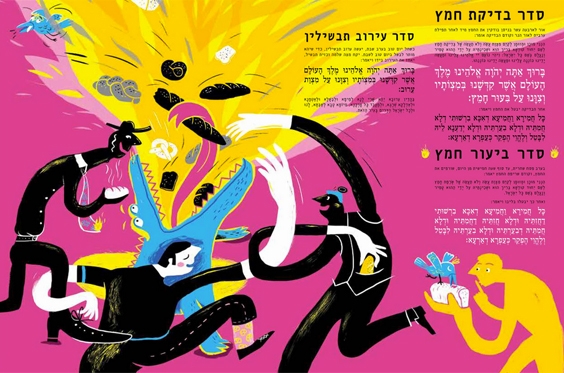 The styles range from ultra-modern to ultra-traditional, straightforward to mazelike.
One page is a beautiful charcoal drawing.
Another is literally a board game.
It's available for the first time in America through the tiny publishing house Print-O-Craft.
The publisher seems perfect for the project–they're an art-book house who also designed a beautiful Grace After Meals book that's retro-style, but gender-blender-friendly, with egalitarian and queer-friendly language.
At some seder tables, everyone will be checking out each other's new dresses and suits. With this haggadah, though, there's no competition: your book will definitely be out-stylin' everyone else's.
____
» Buy the Asufa haggadah.
» Brush up on the Passover 2015 basics
» Build your own haggadah with Haggadot.com
» See more Asufa designs on Pinterest.