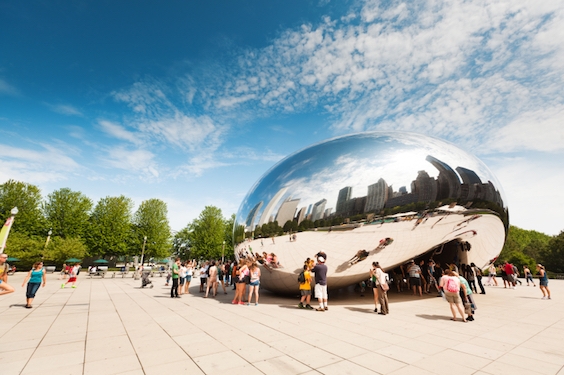 If you've visited the Windy City anytime since 2006, chances are you've squinted at your distorted image in the great "bean," officially known as "Cloud Gate," the iconic work of sculptor Anish Kapoor in Millennium Park. Or maybe you've seen it the Jerusalem version, a smaller, similar piece in the courtyard of the Israel Museum.
Kapoor, a British-Indian artist born in Bombay to a Hindu father and a Jewish Iraqi mother, recently dealt with a kind of inversion of his own, when this fall, a piece of his in the gardens of Versailles, "Dirty Corner"–though it became known by another name—was vandalized with anti-Semitic graffiti. The 200-foot tall steel sculpture was covered with hateful text like "SS blood sacrifice" and "The second rape of the French nation by deviant Jewish activism."
Although Kapoor found the graffiti "slightly frightening," he decided to meaningfully invert the message and keep the slurs, saying the text would serve as a reminder of the anti-Semitism the world would rather ignore. Unfortunately, a French court ruled that Kapoor had to remove the graffiti. Kapoor refused, instead opting to have the graffiti gilded to ensure that the slurs remain, illegible they may be. Kapoor's thinking: The gilding would be an "act of transformation which turns the nastiness into something else"–and forces viewers to confront the ugliness of hatred and bigotry beneath the gold leaf.