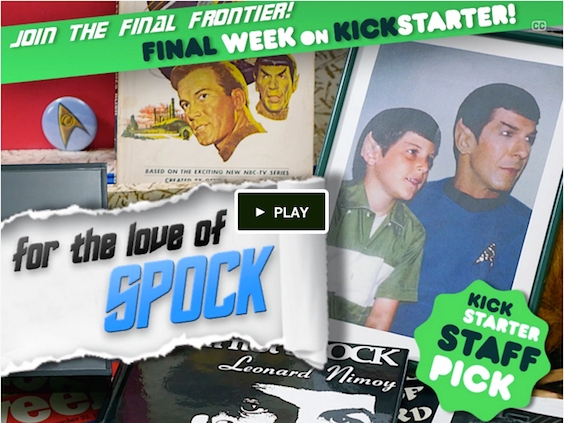 Did you know that Spock's Vulcan salute was an homage to the Kohanim, the sort which Leonard Nimoy observed as a child?
The youngest son of Ukrainian immigrants, Nimoy's first language was Yiddish. He narrated a controversial film about the different sects of Hasidism and published a photography book inspired by Kabbalah. And of course, he played Tevye.
For the Love of Spock – a soon-to-be-released documentary honoring both Nimoy and Spock – will definitely unearth more of these little-known facts. In 2014, Nimoy and his son, Adam, began the film. They aimed to complete it together in time for the 50th anniversary of the original Star Trek series, in 2016. Sadly, Leonard passed away in February. Fortunately, you can step in and help finish the film.
Yes, Adam Nimoy has just a few hours left on his Kickstarter campaign to help fund the project. Interviews, licensing and editing are just some of the pieces that still need attention. Adam has a heartfelt video on his Kickstarter page that pulls in even the most hesitant Trekkie. This is a film about a great actor, a great father, a great Vulcan, and the search for meaning in humanity.
And to that we say, live long and prosper.