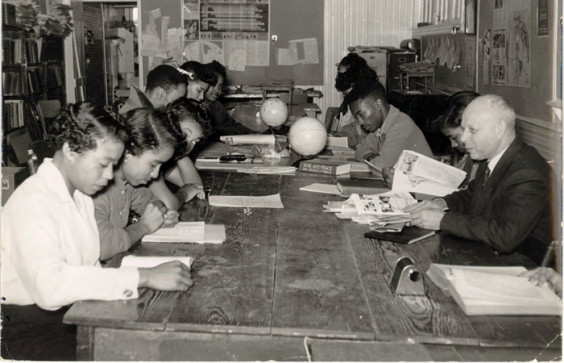 The story of American Jews working with Southern blacks is well known. But the story of Southern blacks helping oppressed German Jews is not.
As Nazism swept Germany in the 1930s, Jewish intellectuals fled to the United States, seeking new opportunities. Instead, they discovered closed doors at many American colleges, where anti-Semitism was rampant.
Fortunately, these refugee scholars were warmly welcomed elsewhere: at historically black colleges in the Jim Crow South. It was a natural pairing. Jewish professors and black students both faced prejudice and persecution. Over time, the bonds between them grew. Professors such as Ernst Borinski at Tougaloo College (pictured here), Ernst Manasse at North Carolina Central University, and Viktor Lowenfeld at Hampton Institute cast their lots with their black students and colleagues, and rebuilt their lives in their world.
Recently, this obscure slice of history has found new audiences, in  traveling museum exhibitions, celebrated plays, and scholarly symposia that explore the subject.
The history of blacks and Jews in America is complex, and hasn't always been easy, but the history of cooperation and respect between the two peoples— especially in the 1930s and 1960s—should not be overlooked.
Photograph of Ernst Borinski and students compliments of Tougaloo College Archives.
____
» Watch former students remember their Jewish mentors
» Buy From Swastika to Jim Crow
» Learn more about refugee scholars
» Review a play about this chapter in Black Jewish history
____
Watch former students remember their Jewish mentors: