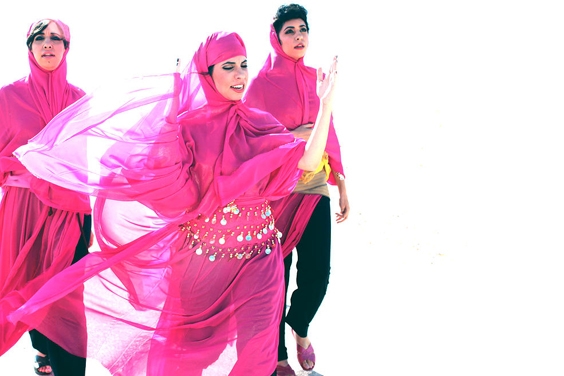 On March 8, a music video uploaded to YouTube flew from the Israeli desert to Yemen and through the Middle East. Its three stars, sisters Tair, Liron and Tagel Haim (not to be confused with L.A.'s three-sister rock band Haim) became immediate celebrities.
Going by the name A-WA (pronounced Ay-wa, Arabic for "yes"), the young women sing in Arabic, wear bright pink dresses and head scarves, and tear through the desert in a Yemeni jeep. Then they dance-battle three guys (potential suitors?) wearing matching blue Adidas tracksuits.
Their first video, "Habib Galbi," which was viewed over 500,000 times around the world in the two weeks since its release, layers beautiful Yemenite melodies over irresistible hip-hop beats, creating a fast-paced, danceable fusion of Middle Eastern musical traditions.
Descendants of Yemeni immigrants on their father's side, the Haim sisters grew up in a small desert village in the Arava Valley in southern Israel and fell in love with their grandparents' Yemeni-Arabic music, which had been sung by women for generations. It's no wonder A-WA has been gaining popularity in the Arab world, even getting posted on the "Mipsterz" (Arab Hipsters) Facebook page.
We're counting down to the release of their debut album later this year.
___
» Watch the video for "Habib Galbi"
» See A-WA perform "Lau Ma Al Mahaba" live
» Listen to an interview with the band
» Check out the Haim sisters' great fashion sense on Instagram
___
Watch them perform "Lau Ma Al Mahaba" live:



Listen to an interview with A-WA on French radio (but in English):

(Photos courtesy A-WAmusic.com)