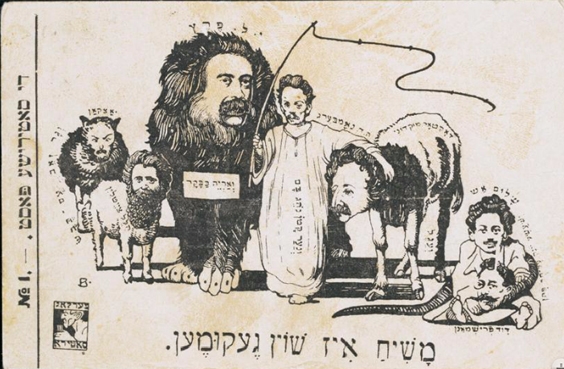 Looking for news from the provinces? A husband? Sholem Aleichem's book tour schedule? Published between 1908 and 1939, Haynt (along with Der Moment) was one of the two widest-circulation, longest-running Yiddish newspapers in Poland. Well-known writers (even some you've probably heard of), like I.L. Peretz and Sholem Aleichem, published columns in it.
Haynt's weekend edition had special sports, arts, and "women's interest" supplements. A peek through its issues reveals what was important to Polish Jews at the time—world news, politics, literature, reports from small towns, and, yes, face cream.
Haynt appealed to Jews of all stripes: Zionists, Bundists, orthodox and secular. Alongside news, what we might today call "lifestyle columns" appeared. One 1929 piece, called "gut yontef," reported on all of the different ways Jews greet each other on religious holidays.
In the words of its last editor, Chaim Finkelstein, "Haynt was constantly speaking up for Jewish interests, ceaselessly calling for rights for Jews." Its last issue was erev Yom Kippur, 1939, one week before Poland was invaded by Nazi troops.
____
» Learn more about interwar Jewish Poland
» Read the entire, delightfully digitized, run of Haynt online
» Devour Chaim Finkelstein's personal account of running Haynt, in English or Yiddish
» Check out a recently translated story by Yiddish writer Isaac Bashevis Singer
(Lodz newsstand photo, "The Messiah Has Arrived" postcard with Yiddish writer cartoons, and "What Do Our Four Sons Say About the Hebrew University?" cartoon courtesy of YIVO.)