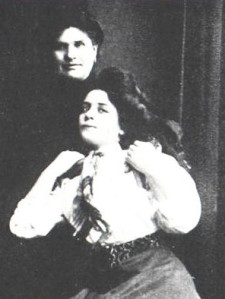 Want to know about Yiddish theatre in Cairo? What about Buenos Aires, or the more familiar territory of New York's Lower East Side? Good news: In these times of freezing temperatures and airline disasters, there's no need to venture out, as Yiddish Theatre, like Yiddish in general, is on the Web, thanks to the new Digital Yiddish Theatre Project.
Co-chaired by CUNY professor Debra Caplan and University of Wisconsin's Joel Berkowitz, the project has an international membership including scholars, librarians, and performers. It's still a work in progress, though, and the site, with photos, maps, interviews, and short essays, is still being updated.
Linking Yiddish Theatre with the Web, the co-chairs said in a conversation, is a totally natural step, as "Yiddish theatre is…a double nomad, traveling toward both the next audience and toward greener pastures, since its fate has so often been intertwined with the lives of Jews living in troubled times and places." Till 120!
____
» Learn about Yiddish and Jewish theater through the ages
» Meet the late Yiddish film and theater starlet Molly Picon
» Surprise! Gandhi spoke Yiddish. Sorta.
» Like Digital Yiddish Theater Project on Facebook
____
Watch a (Polish!) news clip about Warsaw's Yiddish Theater: