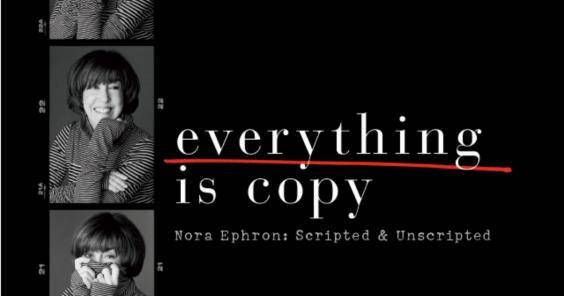 When the acerbic, brilliant Jewish essayist, novelist, screenwriter, and director Nora Ephron (When Harry Met Sally, Sleepless in Seattle) was a child, her mother used to tell her, "Everything is copy." What she meant was: When you slip on a banana peel, people laugh at you. But when you tell people you slipped on a banana peel, you turn your spill into material. Anything is game for a story.
That adage is now the title of a new HBO documentary about Ephron, Everything is Copy, written and directed by the beloved writer's son, the journalist and filmmaker Jacob Bernstein. And since it's online, you can watch it on Mother's Day:
The film is a deep and loving examination of Bernstein's mother, and features interviews with Ephron's sisters, as well as the likes of Meryl Streep, Barbara Walters, Mike Nichols, and Rob Reiner–all luminaries touched by her enormous wit. Bernstein himself is a welcome presence in the film, often in front of the camera, sitting on the couch with an aunt.
Ephron, who thought of herself as "a Jew, but not Jewish," was a radical figure in a heavily male-dominated milieu. And she went after everybody, once calling Julie Nixon, the president's daughter, a "chocolate-covered spider."
Sadly, Ephron died of leukemia in 2012. Everything is Copy is a loving legacy project—and for fans of ]Julie & Julia, You've Got Mail and really, anything funny at all, it's a must-see.