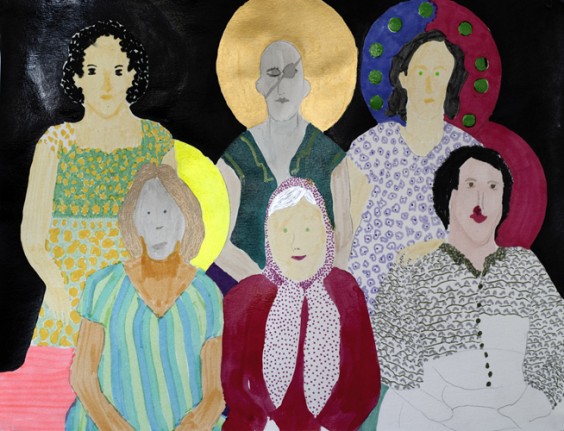 Tel Aviv-based visual artist Elham Rokni was born in Tehran and has lived in Israel since she was 9. Her work reflects on displacement and memory, and in media ranging from drawings to video, she examines a homeland lately known to her mainly through TV news and the Internet.
In the project "Yousef-Abad," Rokni collaborated with an Iranian-American artist. Since Rokni is prohibited from returning to Iran, she asked her collaborator to walk through her childhood memory in the Yousef-Abad neighborhood of Tehran, and record the streets and buildings she remembers from her youth.
In "Green Nights," she presents modified photographs of mosques lit up at night, framed by explosions and smoke, as if peering through the dark wearing night-vision goggles.
And in "Crossing the Dune," part of the Los Angeles County Museum of Art's ongoing "Islamic Art Now, Part 2" exhibit, Rokni presents a video of a man trying to ride his bicycle across sand dunes, a Sisyphean task suggesting the impossibility of crossing distances, places, and time.
Rokni has an eye toward the global, but she delves into the domestic, too. She is fascinated by Iranian ornamentation and patterns, such as drawings of bearskin rugs with Oriental designs.
Her video "45 Minutes" shows an intricate pattern pressed into her skin and slowly fading. She makes colorful abstract representations of Islamic interior designs using markers and tape, and made an arresting series called the Khalili Sisters, based on her great-grandmother and her five daughters.
Rokni won the prestigious Osnat Mozes Painting Prize for a Young Artist in 2013, and she recently completed a residency at 18th Street Arts Center in Santa Monica, Calif. She continues to explore themes of memory and dislocation. Her current project, "Once Upon a Time: Movement," asks African refugees in Israel to share oral folktales from their home countries.
Images courtesy Elham Rokni. "Green Nights" photographed by Liat Elbling.