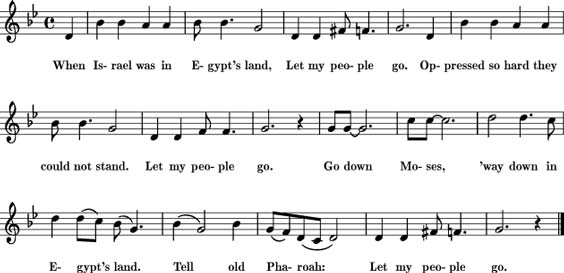 Q: What do Passover, Paul Robeson, and one particular episode of The Fresh Prince of Bel-Air all have in common?
A: This song:
The earliest recording of "Go Down Moses" was found as a battle hymn for the escaped slaves of Fort Monroe sometime before July 1862. After that, the song gained a lot of popularity as an African American spiritual, representing the journey from slavery to freedom. Its lyrics come from the book of Exodus, where God tells Moses how to get the Israelites out of Egypt. According to Sarah Bradford's biography of Harriet Tubman, Scenes in the Life of Harriet Tubman (1869), "Go Down Moses" was even used as a code song for fugitive slaves fleeing Maryland. That meant that the lyrics contained secret instructions on how to escape to freedom.
So how did this song make its way from the Underground Railroad to the seder table? Or was it the other way around? The actual route doesn't matter as much as the shared message – we sing this song to remember how it felt to be enslaved and hopeless. And to promise through our voices that we will fight injustice when we see it.