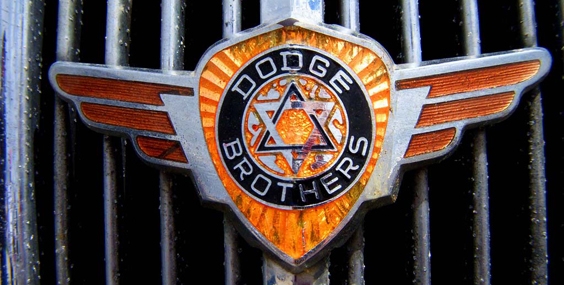 In 1900, Horace Elgin Dodge and John Francis Dodge founded the Dodge Brothers Company. The brothers were not Jewish, but their original logo looked a lot like the Star of David. It was a circle with two interlocking triangles forming a six-pointed star. An interlocked "DB" was at the center of the star, and the words "Dodge Brothers Motor Vehicles" encircled the outside edge.
One popular belief was that the symbol was chosen to anger their competitor Henry Ford, a notorious anti-Semite, though the Dodge Brothers Club insists it wasn't so: they were friends at the time. Plus, the club points out, the "Star of David" was not universally linked to Judaism when the logo first appeared in 1914.
The brothers died in 1920 and never explained their decision. The "DB" star was discontinued for the 1939 models, perhaps because the company believed certain export markets would not buy a car with the link to the Jewish symbol. The Club newsletter editor suggested the "emblem is also a 'Solomon's Seal' sign of interconnected spirits, as the brothers were." Or the triangles could be the Greek letter Delta (for Dodge), or it was modeled after a law-enforcement badge. Or maybe they just liked how it looked.
Photo courtesy Paul A. Eisenstein and TheDetroitBureau.com. 
___
» See some examples of the "DB" star logo
» Get the official line from the Dodge Brothers Club
» Explore the history of the Star of David
» Dig in to the early history of the Dodge Brothers Company