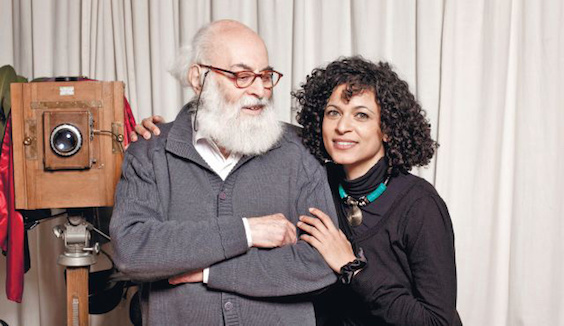 Finding out that your parent has a second life isn't typically a good thing. But for French author Sarah Kaminsky, learning the full story of her father's past changed her life for the better. And next month, the English translation of her nail-biting book, Adolfo Kaminsky: A Forger's Life (DoppleHouse Press) will make the heroism and selflessness of her dear old dad available to millions more readers.
As a teenager during the Nazi occupation of Paris, Adolfo, who was born to a Russian Jewish family in Argentina but raised in France, was recruited by the French Resistance to create false travel documents. Ultimately, using the skills he learned from his job at a dye shop, he became the Resistance's primary forger, and saved approximately 14,000 Jews.
For the next 25 years, Adolfo worked as a photographer while, unbeknownst to most of those around him, he continued his secret life as what he calls a "humanist forger." He joined the Haganah, creating papers so homeless survivors could settle in Palestine. And during the Algerian War of Independence he helped save Algerian freedom fighters from French persecution.
It wasn't until he was 80 that his daughter got him to open up about his double life, thus providing the fodder (and photography) for this riveting book, which has already been translated by six languages, not to mention a documentary and a popular TED talk.
"For thirty years," he said, "I fought against a reality that was too cruel to observe or suffer without doing anything about it."
Photo: Amit Israeli