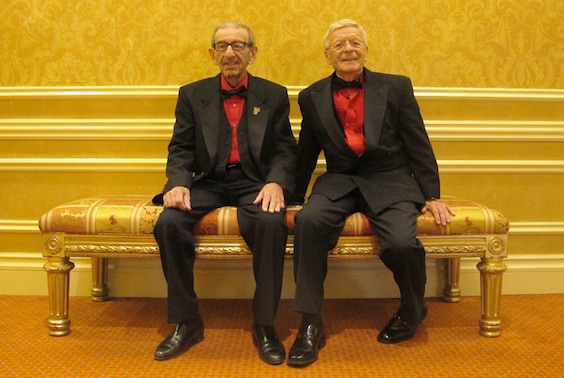 Take two Holocaust survivors, Saul Dreier, 91, and Reuwen "Ruby" Sosnowicz, 88. Add Ruby's daughter, vocalist Chana Rose, and other guest vocalists and musicians, and together you get the Holocaust Survivor Band, a unique outfit that's telling the world through their Yiddish and Hebrew tunes that they beat Hitler — and are creating great music while they do so.
The idea for the band came from Dreier, a Krakow-born Floridian who survived the camps then immigrated to the U.S. in 1949.
In 2014, Dreier, who plays drums, read an obituary of pianist Alice Herz-Sommer, deemed the oldest survivor, who played in Theresienstadt. He decided to start a band with Sosnowicz, a former hairdresser and professional keyboardist originally from Warsaw.
Now the band plays around South Florida. They have performed in Cleveland, Philadelphia and Baltimore and are soon heading to Michigan. One memorable show was when they played a gathering of survivors at a hotel in Las Vegas owned by Sheldon Adelson. And last year, a New York Times video brought them across the globe.
This past February, both men lost their wives. Today, they're raising money for a trip to Poland where, according to their GoFundMe.com page, they'll "sing from our hearts to our parents and all those poor people who were killed."
Photo courtesy of The Holocaust Survivor Band