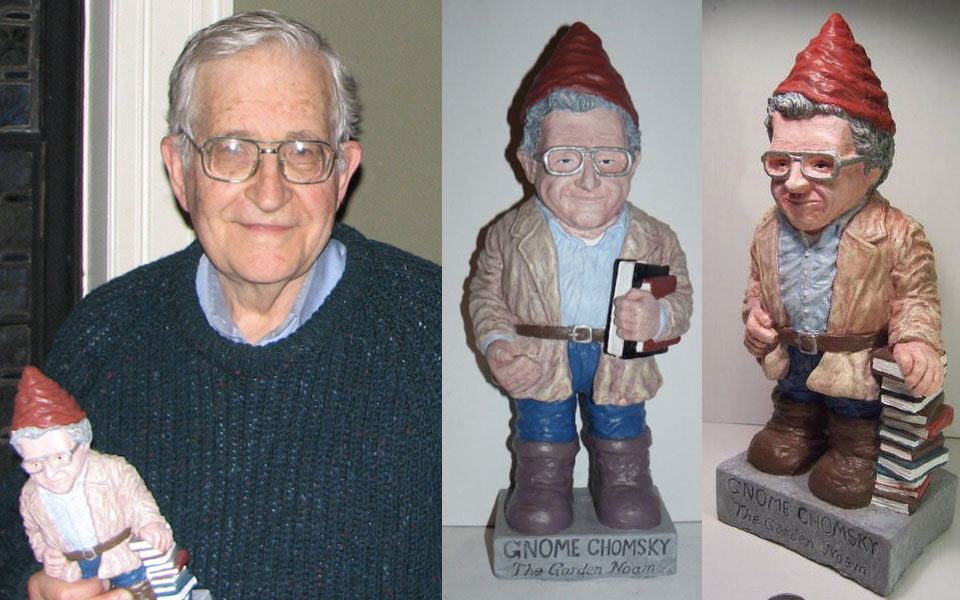 This week, in an interview that's gone viral, controversial Jewish linguist and historian Noam Chomsky calls the Republican Party "the most dangerous organization in world history" for "racing to the [climate] cliff." Thankfully, for those of us whose backyards are not (yet) below sea levels, there's a lawn ornament. Its name? Gnome Chomsky.
The visionaries at the Oregon company Just Say Gnome! dabble in lawn sculpture and wordplay. Indeed, for under $200, you could own "Gnome Chomsky the Garden Noam." Named and sculpted after America's favorite disagreeable anarcho-syndicalist linguist and historian, Gnome Chomsky stands under 17 inches tall, clutching his slightly-altered seminal works, "The Manufacture of Compost" and "Hedgerows Not Hegemony." Place him by your koi pond and watch the gnome argue with a garden gargoyle about freedom of speech for Holocaust deniers! (For instance.)
But if Chomsky is too out-there for you, also available is "Howard the Zinn Monk." This gnome finds the venerable Jewish popular historian and activist Howard Zinn sitting in the lotus, draped in Zen Buddhist robes, a beatific, faraway look in his eyes.
And if, by some farfetched chance, you don't have a pressing urge to own a cerebral lawn ornament, don't fret: your favorite Jewish thinkers come in finger puppet form: there's Jacques Derrida and Hannah Arendt, Sholem Aleichem, and Emma Goldman, too. Economic forecasts are uncertain. Maybe it's time to invest in tchotchkes?