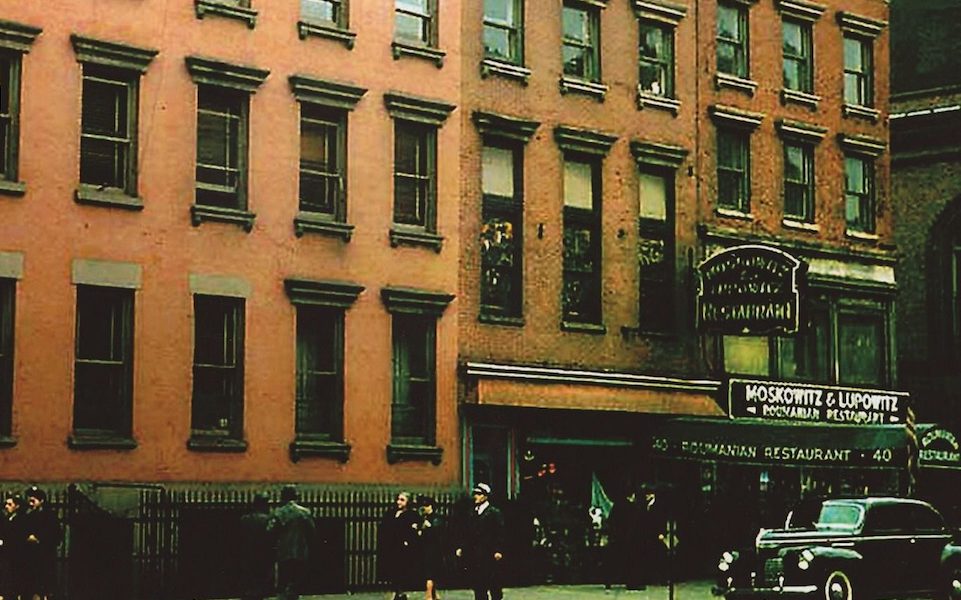 These days people in search of a nice kosher meal wind up at a kosher version of anything from Japanese to French to good old Chinese. But if you were around New York City in the first half of the twentieth century, you might have found yourself at a Jewish Romanian Steakhouse sitting down for a nice big plate of stuffed derma and broiled lamb tongue. (Check out their June 30, 1940 menu!)
As profiled in the new historical cookbook Book of Lost Recipes by Jaya Saxena, one restaurant in particular stood out from the crowd. Founded in 1909 on the Lower East Side, Moskowitz & Lupowitz was so revered that celebrities would drop in—including Bing Crosby, who once performed a song in exchange for a shot of choice scotch.
Like the finest of its kind, Moskowitz & Lupowitz appealed to tastes high and low. The restaurant was name-dropped to impress a girl in the 1940 James Cagney film City for Conquest, but it also released winning Yiddish radio jingles, promising free parking at the "most prominent and popular" Romanian restaurant on the East Side.
These days, if you want to go Romanian, let us suggest Famous Sammy's Romanian Steakhouse. On the Lower East Side and featuring the daily specials of flanken and karnatzlach, they also claim to be the only Jewish disco in town. If you miss their beloved DJ Dani Luv though, you can always scroll through their handy Yiddish dictionary of inside jokes.