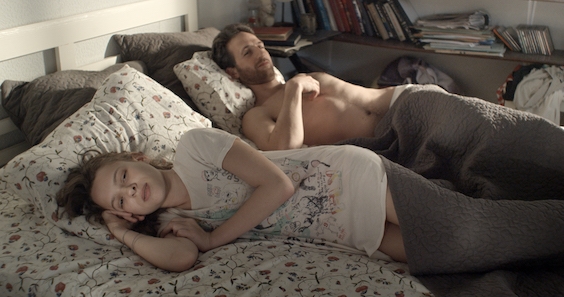 "Our imaginations can sometimes change our reality," writes Israeli writer/director Tali Shalom Ezer about her award-winning film Princess. But only sometimes.
Ezer's main character, 12-year-old Adar (played hauntingly by Shira Haas) is surrounded by dangerous adults. In the opening moments of the film, Adar is in bed with her mother and her mother's boyfriend, their limbs intertwined. Adar's mother gets dressed in a slinky outfit and then asks how she looks.
"Sexy," Adar answers, then giggles softly.
Adar giggles throughout the movie — but her hollow laugher is more like a silent scream, signaling that this is not funny at all. Her mother and the boyfriend become abusive to Adar, and she wanders the streets looking for someone to save her. She meets a boy named Alan who could pass for her doppelganger. They connect almost wordlessly, then buy matching outfits at a clothing store before Adar brings him home.
"He'll sleep with me, in my room, it won't disturb you," Adar tells her mom with an eerie grin.
This is a beautiful yet profoundly disturbing movie. The cast is extremely talented as they delve into sexual abuse, incest, and the fallout in a young girl's mind. Ultimately, whether or not her imagination can change her reality is a lingering question for the viewer to answer.
Princess opens on Friday, May 27 in NYC and LA, and is newly released on VOD/DVD.