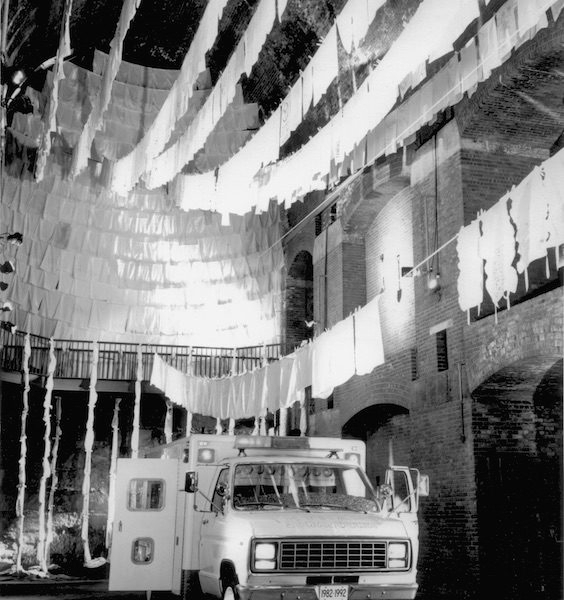 Helène Aylon's work is counted among the permanent collections of the Whitney, MoMA, and elsewhere. Still, it's likely her name isn't a familiar one.
Aylon — born Helene Greenfield in 1931 to an Orthodox Jewish family in Brooklyn — is arguably among the more important American feminist artists of the 20th century. The self-described "eco-feminist" entered the art world shortly after her husband, a rabbi, died of cancer in 1961. Since then, her output has been avant-garde, challenging, and rewarding.
Getting her start in process art — in which the act of creation is more significant than the creation itself (see: Eva Hesse) — Aylon eventually moved towards more experimental, and performative, modes. 1982's incredible "Earth Ambulance" saw Aylon gathering dirt from nuclear bases, uranium mines, and reactors across the States, then stuffing it into pillowcases and carrying them down the steps of the United Nations on stretchers.
Her magnum opus, though, is "The G-d Project," a nine-part work that spans two decades and addresses massive Jewish themes. Under fire are Orthodox husbands who refuse divorce their wives, along with the ubiquitous patriarchal presence in the Torah — both of which are topics she touches on in her 2012 memoir, Whatever Is Contained Must Be Released: My Jewish Orthodox Girlhood, My Life as a Feminist Artist.
The extraordinary work is dedicated to "Mrs. Rashi and Mrs. Maimonides, for surely they have something to say."