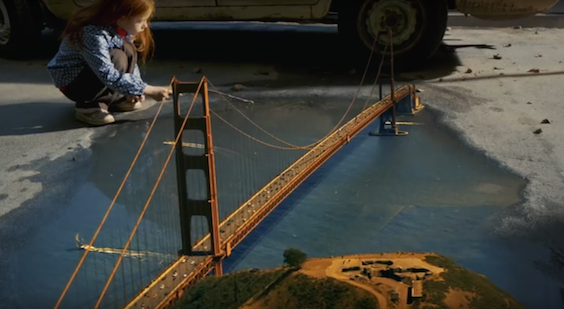 The video for Coldplay's "Up&Up" has already garnered 12 million YouTube views this week, and that number just keeps going up and up. And for good reason: it's simply breathtaking.
Vania Heymann and Gal Muggia co-directed the video for the British rock band. The two 30-year-old Israelis describe the video as "a poignant, surrealist montage which alludes to contemporary issues."
The video blends seemingly incongruous worlds: whales swimming in the sky, a child swinging in outer space, synchronized swimmers in a teacup and popcorn bursting from a volcano.
It also includes a nod to Israel. At 1:38 you see what looks like the separation barrier dividing Israel from the West Bank, with rolling waves on one side and sunbathers on the other.
It wouldn't be the band's first foray into regional tensions: in 2011 the band posted OneWorld's "Freedom for Palestine" video on their Facebook wall, only to remove it days later.
"Up&Up" is the third single off the band's seventh studio album "A Head Full of Dreams," and features vocals from Beyoncé, legendary "Gimme Shelter" singer Merry Clayton and a guitar solo by Noel Gallagher. We dare you to multitask while watching the video. Seriously. Just try.