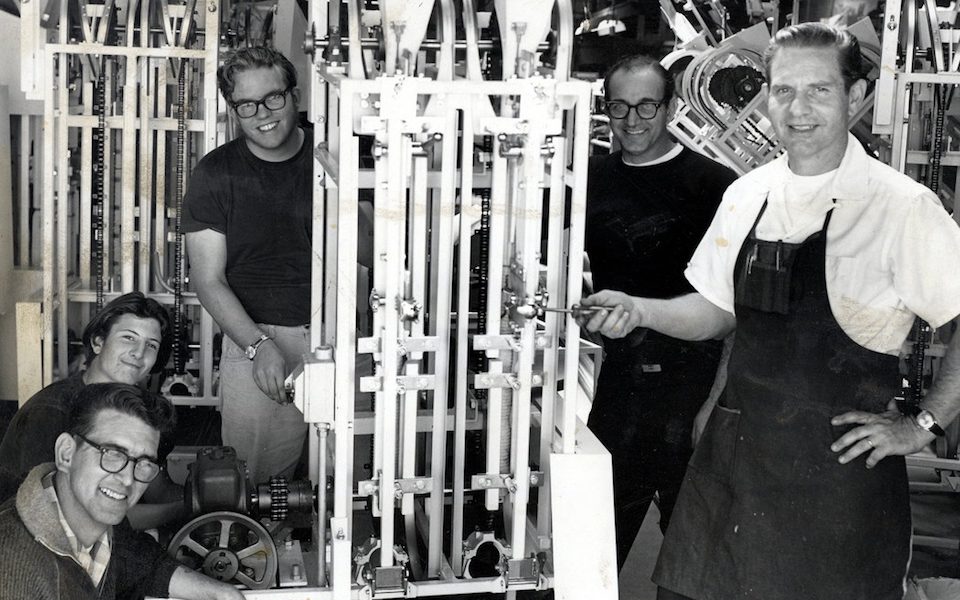 When it comes to bagels, it's a given that an old-school handmade bagel is going to taste way better than a mass-produced one bought at a supermarket. But rolling and shaping the dough before boiling it in water and then baking it is a real chore. (Ref: this Seinfeld episode.) That's why Daniel Thompson, who passed away last year at 94, invented the automated bagel-making machine.
Daniel's father Mickey Thompson owned a bakery in Boyle Heights, then the heart of LA's Jewish community, and he watched his dad futz around for decades to figure out bagel mechanization. His dad could never produce a satisfying bagel, but Daniel Thompson – a math teacher – achieved his dad's dream and built the first commercially-viable prototype in 1958.
https://vimeo.com/157800480#t=53s
Eastern European Jews brought bagels to the U.S. in the 1880s, and, until the mid-1960s, if you wanted a bagel, you'd have to go to a heavily Jewish city. After Thompson leased his first machine to another entrepreneur, Murray Lender, that changed forever. You can find Lender's Bagels and other brands at grocery stores and cafés around the world.
But that's not all Thompson accomplished. The fold-up Ping Pong table? He came up with that one, too.
Photo: New York Times, courtesy of Steve Thompson