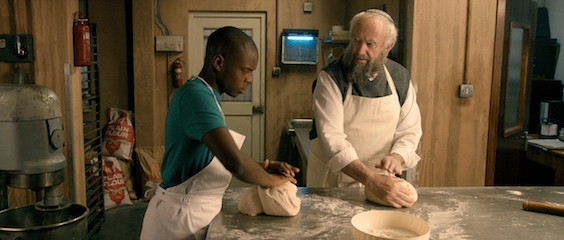 Grandpa's challah has a new skunky smell, and the lines outside his London bakery door are full of giggling Jews. The secret to his success? There's something in the dough.
Dough is a quirky new comedy by John Goldschmidt, released by Menemsha Films. It's silly, sweet, and invites reflections on prejudice and edible hallucinogens.
Nat, the old Jewish baker, is played lovingly by Jonathan Pryce, of Game of Thrones fame. His bakery is in dire straits because of a greedy landlord. Ayyash, Nat's new apprentice, starts out as an angry Muslim teen with no good father figures. does a beautiful job showing the push and pull of being an outsider. He tries to deal pot from the bakery, but when the cops come, he quickly hides his stash in the batter and starts kneading. Silliness ensues.
There are a few very hokey moments in the film – old ladies getting horny after eating too many pot brownies and Nat going for a joyride in a grocery cart, for example. But the sentiment is genuine. It's about honoring family and faith, and trying to find common ground, even if you're floating a little above it.
Dough opens Friday, April 29, in select theaters nationwide. Seems like a truly elevating way to welcome hametz back into your life.