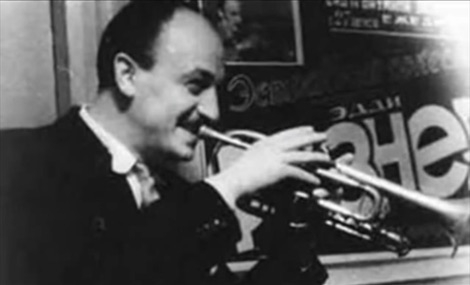 Forty years ago today, the world lost a little swing in its step.
The swing belonged to a remarkable jazz musician named Adolph "Eddie" Ignatievich Rosner. Rosner was known for playing two trumpets at once and was hailed internationally as "The White (or Polish) Louis Armstrong," partly because of his true gift at the St. Louis blues–among other jazz standards.
Born in 1910 into a Polish Jewish family in Berlin, Rosner studied music and started touring with a band called "The Syncopators" at a young age. But Hitler's rise to power cut him short.
"It didn't help being a Jew playing Negro music," he once said. "Even if your name was Adolph." He fled Nazi-occupied Poland and found a safe haven in then-Soviet Białystok. He formed a swing band and became a hit across the USSR. He even led the State Jazz Orchestra during the war, getting lavish treatment from Stalin himself.
All that changed after WWII. Jazz was outlawed. Rosner was caught by the KGB, charged with "anti-Soviet" treason and sent to a gulag prison camp for eight years. He performed for guards and started up a 64-piece ensemble that was very popular once he was freed, but he never recovered from imprisonment. A 1999 documentary by Pierre-Henry Salfati, The Jazzman From the Gulag, recounts how this incredible virtuoso gave the world a brilliant sound, only to die in obscurity.
Photo: YouTube