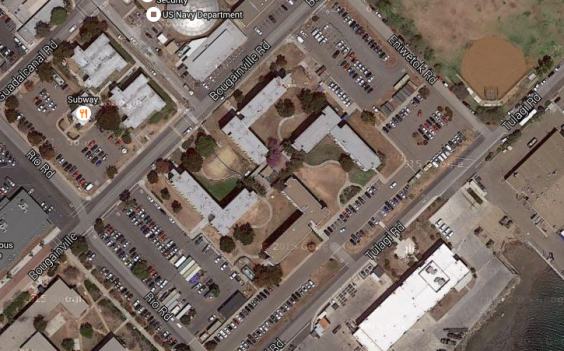 The Naval Amphibious Base Coronado, located south of San Diego, is an important West Coast hub for various Navy training exercises. Also, if you look at it from the sky, it's totally a giant swastika.
Though the base was built in the late 1960s, American-Israeli researcher Avrahaum Segol first learned of the building in 2006. Responding to his pressure and attention, an official Navy statement called the design an "oversight," though, when you gander at the blueprints, that claim seems dubious at best. Segol has spent the past ten years leading a fight for renovation—and until recently, he was making progress.
Over the last few years, the Navy allocated $14 million for improvements: the plan was to connect the L-shaped buildings, creating a square. "The Navy does not want to be associated with a negative and hateful symbol as a swastika," an official statement declared.
But now, having completed the $14 million renovation, as this CBS video shows, the original structure of the base remains. Segol, among others, is baffled by the actual usage of the money, which went not into de-Nazifying Coronado but rather into "replacing all bathroom fixtures" and and other upgrades and repairs.
This is not to say there is a salacious, Jew-hating conspiracy underfoot. But, well, it isn't to not say that, either.
Image: Google Maps