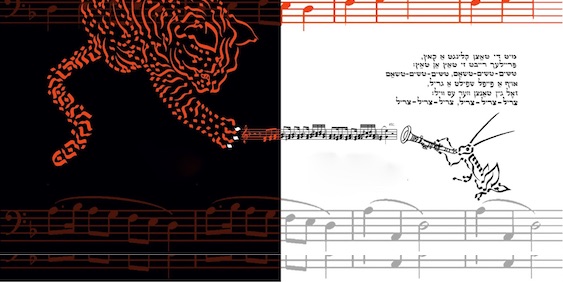 Playful poems of a wise owl, a menacing tiger and a klezmer-playing bear that once delighted Yiddish-speaking Polish children are making an unlikely comeback in a soon-to-be-released children's book for a new generation of Poland's Jewish children.
Once nearly lost to history, the delightful read-aloud poems are among others in Yiddish Zoo, featuring poems written by prominent Yiddish writers of the interwar years with new translations in Polish and English.
The book, with stunning, contemporary illustrations, is published by Czulent, an educational organization founded in 2004 by young Jews in Krakow.
Since 2012, Czulent has published a trio of newly illustrated children's books based on Yiddish tales and rhymes that are given out for free to thousands of Jewish families across Poland. Funding has come from individual donors, grants and philanthropies.
Anna Makowka-Kwapisiewicz, a founder of Czulent, hatched the idea when she came up empty handed on a search for Jewish children's books for her young daughter.
Their unlikely endeavor garnered global recognition with the 2014 prize for Majn Alef Bejs, an alphabet book, at the prestigious Bologna Children's Book Fair.
Rivka Kaminsky Danzig was brought to tears when she learned that Czulent was publishing that book, one of many written and published by her grandfather, Yeshoshua Kaminski. After immigrating to the U.S.in the early 1900s, his mission was to help keep Yiddish alive in the States, she wrote in an email.
"That one of those books…was to be re-issued in Eastern Europe…for the very purpose it was intended in the States seemed like a miracle to me," she said.