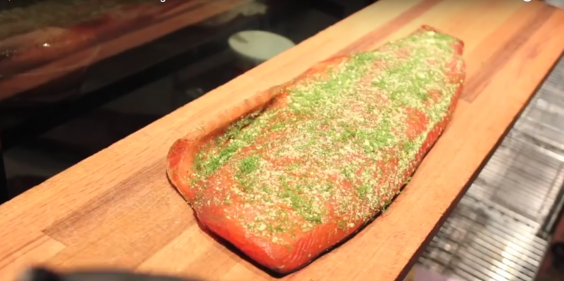 The wise child, the wicked child, the simple child, and the child too stoned to ask?
Yes, this Passover, you may hear a lot more giggling around the seder, especially if you're inviting celebrated chef Josh Pollack to the table. Pollack has garnered a lot of praise for bringing authentic New York bagels to Denver, Colorado. And as this video from TheSmokersClub.com testifies, he is also perfecting the art of marijuana-infused salmon:
"Edibles" – foods soaked or cured in a cannabis marinade – are a new foodie favorite, especially in Colorado, where pot was legalized in 2012. Pollack's edibles are being hailed as exceptional because he's tinkered around with the dill-to-weed ratio determinedly and come up with lox and matzoh balls (that is, pot-zah balls) that are delicious and mellowing, without leaving the eater feeling too loopy. He even led a workshop about what he's doing at the 2015 Jewish food conference The Harvest.
Pollack started smoking as a teen recreationally, but became more impassioned about marijuana legalization when his mother was dying and found comfort in its palliative effects. Pollack's thriving business – Rosenberg's Bagels – is named after her. He believes that marijuana is a natural, sustainable herb that reflects a lot of Jewish cultural values. Not to mention, he spoke with some rabbis recently about cannabis being "inherently kosher," which leaves him giddy with new ideas.
Next year in Denver!