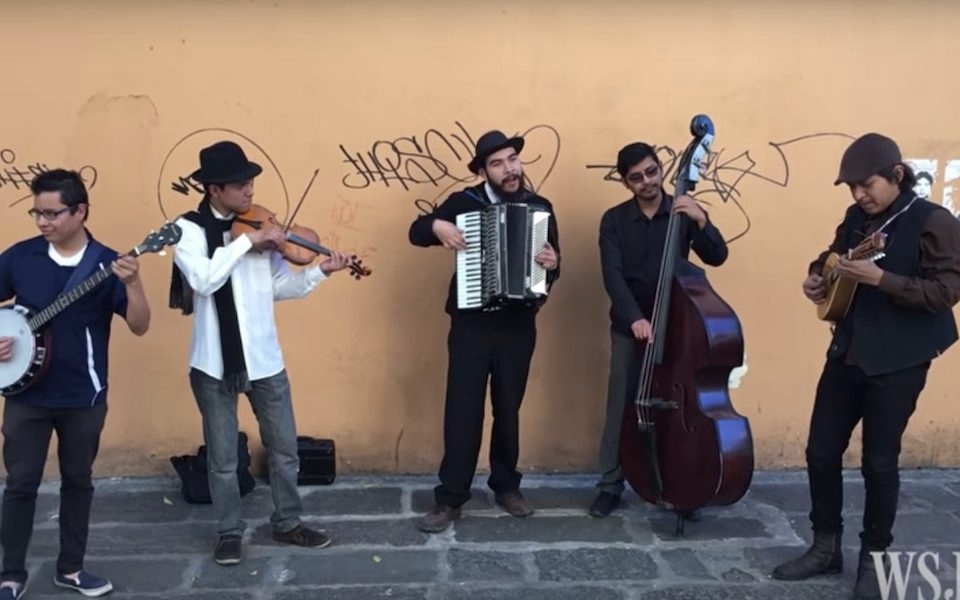 Juan Pérez is not Jewish, but you wouldn't know it from listening to him play klezmer.
Pérez, who is 28 years old, grew up in a small Mexican village named Xicohtzinco. He's never been inside a synagogue or traveled abroad, but when he heard the vibrant dance beat of klezmer music, he found his musical calling.
Pérez plays clarinet and accordion and is devoted to the art of klezmer. He recently told the Wall Street Journal that this music was "a small summary of all of life" – melding joy and suffering in a single melody. He studied klezmer tunes, history and nuance mainly by watching videos on YouTube. Pérez believes that the older recordings are the purest and he aims to play these songs as close to their original version as possible. He also trained a group of friends in the klezmer traditions and formed a band called El Colectivo Klezmorino.
El Colectivo often performs in the main city plaza of Puebla, Mexico. Their sound is buoyant yet soulful. Pérez – who also goes by "El Maestro" – has a long beard and wears the traditional Hasidic garb of a white dress shirt, black cardigan, and black wide-brimmed hat.
He told the WSJ that he sees his dress as an homage to traditional klezmer musicians.
"I can see how it might bother or offend someone, but I don't have any malicious intent," he said. "I used to have clothes in lots of different colors, but as they got worn out, I just got rid of them."