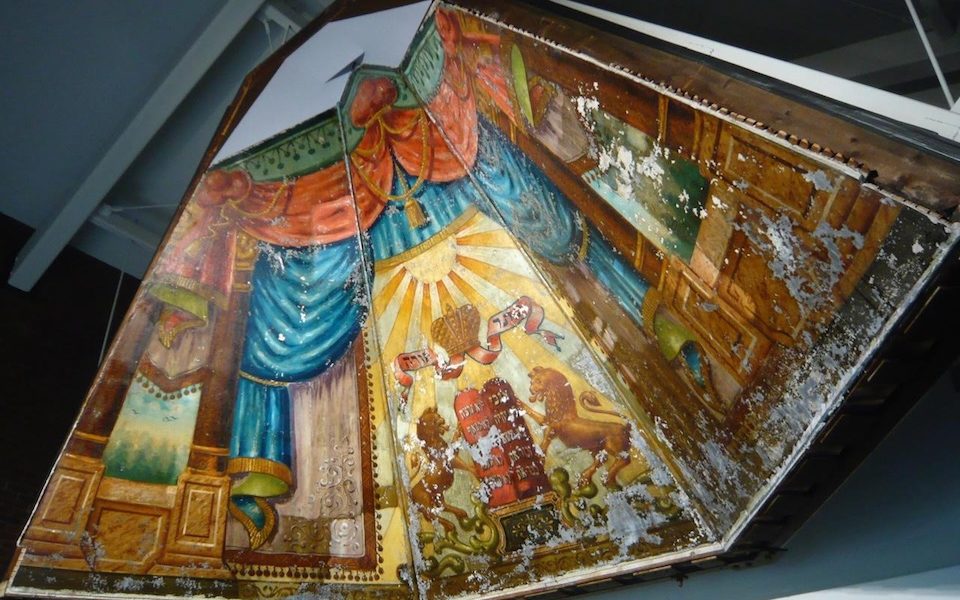 Travel guide trivia: What Northeastern American city was once known as Little Jerusalem? If you guessed other than Bernie's green stomping grounds of Burlington, Vermont, try again. In the Green Mountain State, few people's go-to for Jewish history, a fragile, century-old mural serves as a reminder of the once-vibrant community, and a talisman for Vermont's 21st-century Jews.
In 1910, when Lithuanian Jewish immigrants formed the backbone of the young community, the city's Chai Adam shul commissioned fellow landsman Ben Zion Black to paint the mural. Trained in the style of Eastern Europe's ornate wooden synagogues, he produced a brightly colored work complete with lions and the Ten Commandments over the ark. Three decades later, when the synagogue closed, Black's work was all but forgotten.  
In the eighties, the Chai Adam building was converted into apartments and the mural was concealed behind a wall rather than destroyed. It wasn't until 2012 that the community found the mural again and began restoration efforts in earnest. Today, restorers have uncovered its original colors and relocated the wall containing the painting to Ohavi Zedek, a synagogue down the road.
The "lost shul mural," as it is known, is drawing more attention to this sliver of lost Ashkenazi artistry in America – even inspiring a recent play about its creation.
Photo: LostShulMural.org