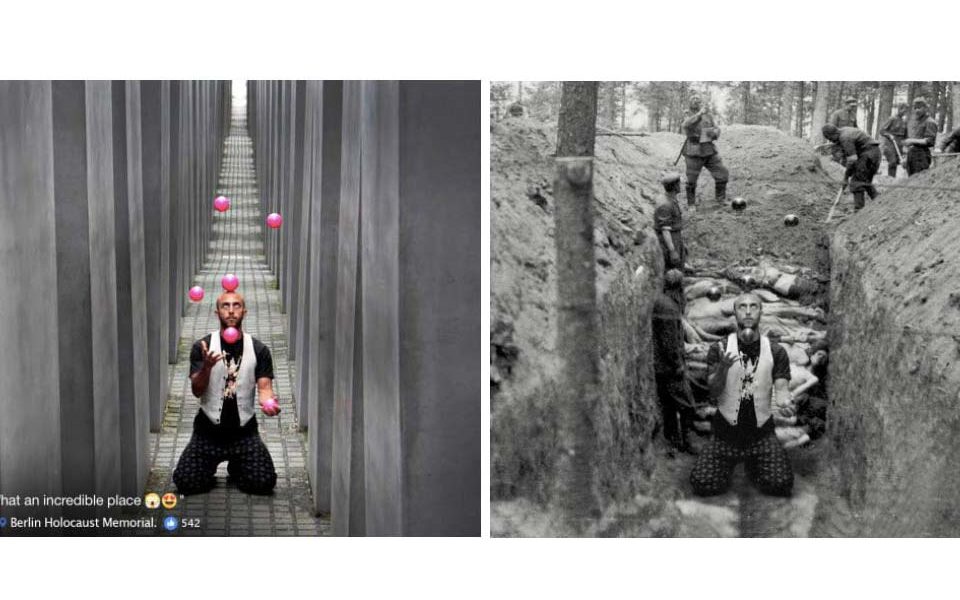 You may have seen it: YOLOCAUST, a short-lived online gallery that transformed Holocaust-themed glamour selfies into historic scenes of horror, complete with corpses. Shahak Shapira, the Israeli artist behind the project, wanted to draw attention to the unsettling phenomenon of young people mugging for their iPhones at Auschwitz and at Berlin's Holocaust Memorial.
But if you haven't seen the gallery already, you'll have to find the images on old articles online. After being contacted by all of the people pictured, yesterday Shapira declared the project, which had been visited by over 2.5 million people, a success, and took it down. 
As one email he received said:
I am the guy that inspired you to make Yolocaust, so I've read at least. I am the "jumping on de…" I cant even write it, kind of sick of looking at it. I didn't mean to offend anyone…I am sorry. I truly am.
Before it was removed, the project inspired as much criticism as it has praise. To some, the sudden appearance of mass graves felt insensitive to the images' capacity to freshly traumatize–and to the memory of the victims pictured. Others appreciate how the image manipulation coolly undermined the point of a selfie, as the individuals got lost in the blur of death behind them. When you passed the cursor over him, one poised juggler was suddenly kneeling in a ditch as soldiers excavate bodies, and his eyes seem lifted not in concentration, but in prayer.
A public memorial criticized for being so non-representational that it doubles as a park can have the effect of abstracting the real horrors it commemorates. "YOLOCAUST" reminded us that the evidence of the Holocaust, though it may not show up on Instagram, still surrounds.
Image: photoillustration from Yolocaust