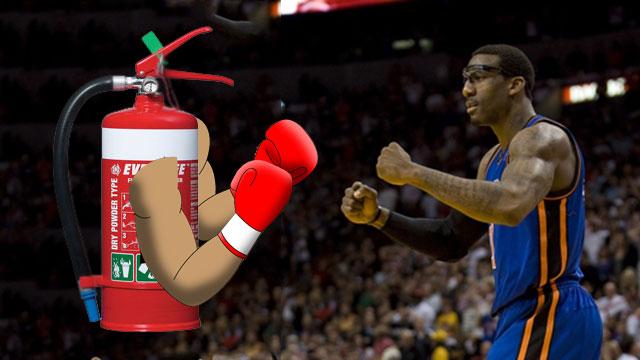 So the New York Knicks' Amar'e Stoudemire was really frustrated about losing Game 2 of the first round of the NBA playoffs to Miami, which naturally made him punch an innocent fire extinguisher at the American Airlines Arena in Miami. The glass of the extinguisher's protective box shattered, and Amar'e left the arena with a sling after he cut his hand. He may not be fit to play in Game 3.
Check out how the story broke:
Following the ridiculous incident, Amar'e tweeted an apology to his fans:
The next day, New York papers pulled their strongest puns to deal with Amar'e's downfall:
And Twitter was also all over that, with some pretty good jokes:
And then this hilarious animated gif happened:
You can also buy the latest Amar'e shirt here:
And of course, the American Airlines Arena fire extinguisher now has its own Twitter account, which mostly disses on the Knicks and Amar'e. Honestly, they deserve the dissing. The Knicks haven't won a playoff game in more than 11 years (4,021 days to be exact).