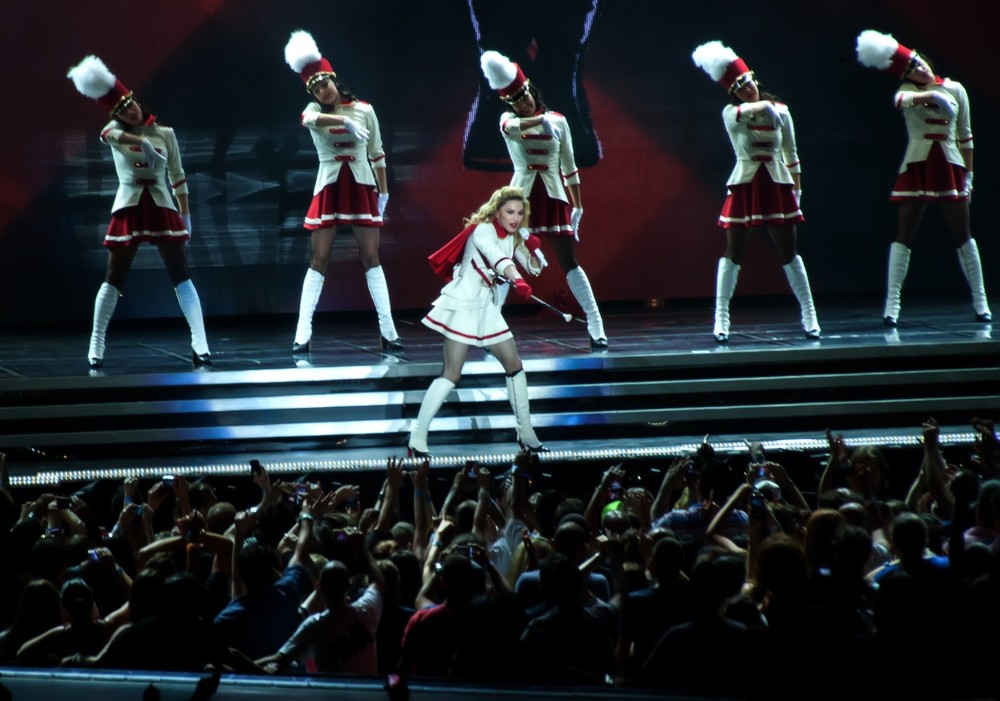 So after one week in Israel, it is time to leave, and she did, with a bang. For one night, Israel was the capital of pop music, with Madonna's debut of her "MDNA" tour.
Everyone is talking about last night's concert in Ramat Gan Stadium near Tel Aviv. Dynamic stage, people flying in the air, gigantic video screens, different costumes and crazy rhythm were a part of a show that Israelis don't see that often.
Madonna began her show with "Girl Gone Wild" and moved to "Revolver" and "Gang Bang." As the show progressed, critics argued that the 53-year-old idol was just focusing on put on her very own rendition of "Cirque du Soleil," instead of, umm, singing.
In the middle of the show, Madonna also took advantage of the stage to spread the word of peace, here is what she said in the middle of the show:
"I chose to start my world tour in Israel for a very specific and important reason.

As you know the middle east and all the conflicts that occur here and has been occurring for thousands of years they have to stop. There are very special and important NGO's that are representing both Palestine and Israel. There are many people, I know everyone here tonight that can't be a fan of mine and not wanting peace in the world.

So there are people from all walks of life here, and even in my show, we all have different tasks but we are all sons and daughters of the universe and we are all human beings. and weather we are muslim, jew, christian, buddhist, atheist, gay, straight, black, white, asian, we are all human beings, ok?

we all bleed the same colors we all want to love and be loved, so its easy to say i want peace in the world but its another thing to do it, and if we can all rise above our egos and titles and the names of our countries and the names of our religions, if we can rise above all of that and if we can treat everyone around us every human being with dignity and respect, then we are on the road to peace.

So No matter how many laws we change no matter how many percentages of land we give back, no matter how many talks, no matter how many wars if we don't every human being with dignity and respect we will never have peace. So start today, start now each and everyone of you, you are the future, we are the future, and if there is peace here in the Middle East then there can be peace in the world. "
After that moving speech, she moved on to having a number that involved shooting guns, so much for peace and no violence. In addition, she had some very explicit moves with a certain dancer, Brahim Zaibat, who happens to be her boyfriend.
But regardless to any conflicting messages, a dancer who says Jerusalem is in Palestine and not Israel and the massive amount of coverage, the lucky thousands who attended the show got exactly what they paid for – a Madonna show.
Here's Madonna's opening act:
And here is her peace speech: