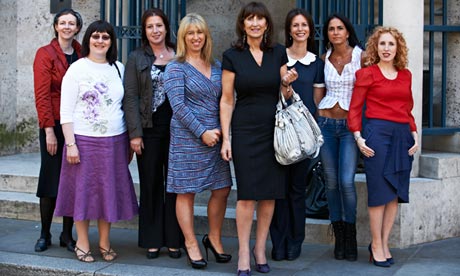 A television network in the U.K. aimed to make the reality of millions of people worldwide into a television show, but this reality wasn't about eating bugs or surviving a tribal society on a deserted island.
It was — about Jewish mothers (or "mums" like the traditional British spelling).
Channel 4's "Jewish Mum of the Year" featured eight British and Irish Jewish women — from secular to Orthodox — forced them to face the most challenging tasks a Jewish mother has to face: planning bar mitzvahs, organizing a blind date, and even cooking Shabbat dinner.
Clearly more difficult than eating a horse's brian, and no, I am not being sarcastic here. Much respect to the mums out there!
The winner of the show was crowned two nights ago in the finale special, her name is Sandi Firth (good thing she spelled it with an "I," it's not the most popular name nowadays), and she is from Leeds. Apparently Firth's specialty is fruit sculpturing (would that make the non-Jewish audience believe that all Jewish mothers do that? or more important, would that make Jewish mothers do that? I want to see some crazy Edward Scissorhands fruit sculpturing, please!).
The show itself, as the Independent's Richard Ferrer reports, has generated much controversy:
Michael Grade called the show "clichéd" and Maureen Lipman branded it "disgusting". Simon Kelner even took exception to the "big noses" on display. (It's not like anyone wore strap-ons, Simon. They were real people's real noses).

Most of the haters weren't entirely sure why they hated it so much, but were no less certain that they damn well did.

By episode two the mums could have been tasked with curing cancer and we'd still have been accused of stereotyping. (Jewish doctors, such a cliché!)
But despite the criticism, Ferrer makes an interesting point:
So the scene that anecdotally seemed to most embarrass viewers – a bitter row about Judaism between Orthodox Ruth and secular Emma – was for me a "eureka!" moment. Finally, Jews were on prime-time TV as individuals rather than a homogenous group. One Jew did not fit all.

So claims that the mums were "eight stereotypes" and "not recognisably Jewish" left me bemused. Why not celebrate, rather than squirm, at the obvious breadth of British Jewish life? If these are the wrong sort of Jewish mums for TV, who are the right sort – and who decides?
So did the British go too far (can you even say that about them anymore)? Maybe…
But I do know that I want to see a (stereotype alert) New York version, I have a feeling that everything would be kosher and yes, there will be blood.