by
Uri Fintzy
Hollywood came together last night to pat itself on the back for the 85th time, and although the Jewish king of film, Steven Spielberg, failed to bring yet another trophy after "Lincoln" lost to "Argo," and Israel was once again on the losing spot (though not to Iran like last year, if you want to look on the bright side), we were able to find ten Jewish moments even without Billy Crystal hosting.
Here are the top ten Jewisn moments from last night's Oscars:
10. William Shatner appeared as a grumpy Captain Kirk for the opening bit.
For fans of Seth MacFarlane, the show's host, the cameo of Shatner as his memorable "Star Trek" character did not come as a surprise, as MacFarlane is known as an avid "Trekkie." The best thing about his appearance was his constant criticism of the host, which led to the the wonderful sock puppet rendition of the film "Flight."
Oscars 2013 – Opening Number With Seth… by IdolxMuzic
9. Daniel Radcliffe and Joseph Gordon Levitt danced together
The two young Jewish heartthrobs danced together with MacFarlane in a tribute to the film "High Hopes," and later took this adorable backstage photo.
Apparently the two can dance, and apparently Radcliffe, who was known to be a short guy, is like really really short. And speaking of short people:
8. Dustin Hoffman looked like a kid next to Charlize Theron
We love Dustin, he is talented, hilarious and quite handsome, but whoever decided to put him next to one of Hollywood's tallest actresses is just plain cruel.
7. Sacha Baron Cohen went on stage and didn't do anything crazy
Seriously. No human ashes, no crazy g-strings, nothing. He just sang a song (and dreamed a dream) with his fellow "Les Miserables" cast members.
6. Scarlett Johansson didn't show up to the "Avengers" reunion
This is an outrage! It wasn't only about Robert Downey, you know. But ScarJo fans were happy to hear her lovely voice at the performance of the Oscar-nominated song "Before My Time" for the documentary "Chasing Ice."
5. Liam Neeson's introduction music was the theme of "Schindler's List"
That's kind of a downer, we know, but John Williams' composition, performed by violinist Itzhak Perlman, is truly a masterpiece.
4. William Goldenberg beat himself at the film editing category
Goldenberg won the award for his work on the film "Argo," beating himself and his work for "Zero Dark Thirty." Backstage, Goldenberg talked about what prepared him to be such a successful editor, "My father's deli, you had to do a million things at once. Making breakfast for 75 people, paying bills, being on the phone with distributors. It prepares you for the multitasking you do in the editing room."
3. Daniel Day Lewis won his third Best Actor Oscar for his role in "Lincoln"
Day Lewis is the first actor to get a Best Actor hat trick. Since Day Lewis is half Jewish, can we clame at least 1.5 Oscars? I'm okay with just the upper body.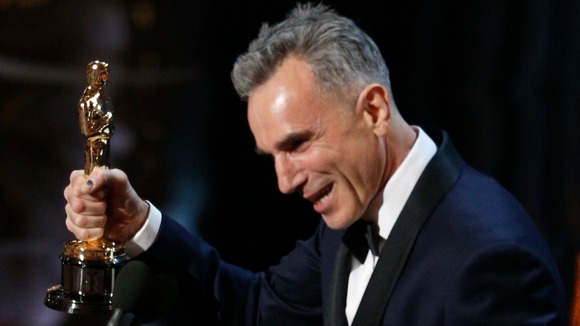 2. Ted the teddybear is Jewish, actual name is Theodore Shapiro
You can't say Seth MacFarlane without some self-promoting (and Jew jokes), and you can't be mad at a cuddly bear with a heavy Boston accent, right? When Ted (voiced by MacFarlane) came up to present the award with co-star of the film "Ted" Mark Wahlberg, the bear made a comment about all nominees for Best Supporting Actor were Jewish, and wondered whether Wahlberg is Jewish (he's not). And later added how he is actually Jewish (Theodore Shapiro) and how he donates money to Israel. Ted also joked about going to the "next secret synagogue meeting." Not the most risque of Jewish jokes from MacFarlane, but was funny nonetheless (unless you're the ADL). Watch the video here.
1. Barbra Streisand is back
Babs! For the first time in 36 years, Streisand returned to perform at the Oscars, and sang "The Way We Were" as a tribute to legendary composer and conductor Marvin Hamlisch, following the emotional "In Memoriam" section. I personally didn't think it was the best of Babs' performances, but if I don't put it at the number one spot I would most likely be fired.