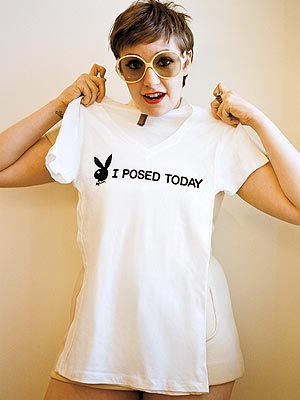 Even if Howard Stern did call her a "little fat chick," HBO "Girls" writer/actress Lena Dunham wouldn't have her body any other way.
Speaking with Playboy for an interview in their April issue, the Jewish "voice of a generation," posed naked behind a white Playboy shirt and she is much happier looking like an average girl than a model.
"There would be all kinds of weird challenges to deal with, I don't think I'd like it very much," she said about the bodies of Victoria's Secret models. "I don't want to go through life wondering if people are talking to me because I have a big rack. Not being the babest person in the world creates a nice barrier."
Dunham doesn't need to go through life pondering what people know about her rack, because the actress has already broken every TMI boundary in her show: we've seen her topless in just about every episode, sometimes playing ping pong, and other times eating cupcakes.
Speaking of cupcakes, Dunham did admit she wouldn't mind living in a Victoria's Secret model's body for a day, just to score some free food.
"That said, I probably would want to see if I could get free food at restaurants. Then I'd call a doctor and see if she could return me to my former situation," she added.