NEW YORK (JTA) — Sukkot is such a beautiful holiday: eating outdoors, decorating the sukkah and enjoying the flavors of fall with family and friends. The fasting is over, and the craziness of the New Year rush has passed. You can leisurely enjoy long holiday meals outside.
Even though the holidays fall a bit early this year, I still enjoy bringing autumn flavors into my menu. These recipes are beautiful and crowd pleasers, sure to further liven up your sukkah.
BUTTERNUT SQUASH AND SAGE CHALLAH
Yield: 2 large loaves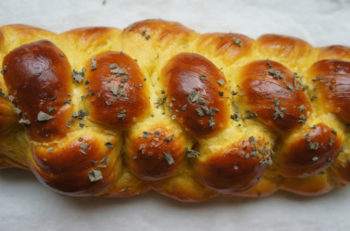 If butternut squash challah sounds a bit bizarre, it's actually quite similar to a pumpkin or sweet potato challah, which may be more common. The texture of this dough is smooth, slightly sweet and pairs perfectly with savory sage. It is equally delicious slathered in butter for breakfast or dipped in a hearty bowl of soup or stew for lunch or dinner.
 
Ingredients:
1/4 cup vegetable oil
5-6 fresh sage leaves
1 1/2 tablespoons dry yeast
1 teaspoon sugar
1 1/4 cups lukewarm water
5 1/2-6 cups all-purpose unbleached flour (I prefer to use King Arthur)
3/4 cup sugar
1/2 tablespoon salt
1/2 cup butternut squash puree (fresh or frozen)
2 eggs
2 egg yolks plus 1 teaspoon water
Additional fresh sage leaves for garnish
Thick sea salt
Preparation:
Place vegetable oil and fresh sage leaves in a small saucepan over low-medium heat. Heat through until sage becomes fragrant, around 5 minutes. Remove from heat and allow to sit 25-30 minutes. Strain sage leaves but do not discard. Finely chop leaves.
In a small bowl, place yeast, 1 teaspoon sugar and lukewarm water. Allow to sit around 10 minutes, until it becomes foamy on top.
In a large bowl or stand mixer fitted with the whisk attachment, mix together 1½ cups flour, salt, butternut squash and sugar. After the water-yeast mixture has become foamy, add to flour mixture along with oil and chopped sage leaves. Mix thoroughly.
Add another 1 cup of flour and eggs and mix until smooth. Switch to the dough hook attachment if you are using a stand mixer.
Add an additional 3 cups of flour, 1 cup at a time, until dough is smooth and elastic. You can do this in a bowl with a wooden spoon, in a stand mixer with the dough attachment or, once the dough becomes pliable enough, on a floured work surface with the heels of your hands. Dough will be done when it bounces back to the touch, is smooth without clumps and is almost shiny.
Place dough in a greased bowl and cover with damp towel. Allow to rise at least around 3 hours.
Preheat oven to 350 degrees. Braid challah into desired shape. Allow challah to rise another 45-60 minutes, or until you can see the size has grown and challah seems light. This step is very important to ensure a light and fluffy challah.
In a small bowl beat 2 egg yolks with 1 teaspoon water.
Brush egg wash liberally over challah.  Sprinkle with chopped fresh sage and thick sea salt.
If making one large challah, bake around 27-28 minutes; if making 2 smaller challahs, bake 24-26 minutes.
JEWELED VEGGIE ORZO WITH WHEATBERRIES
Yield: 6-8 servings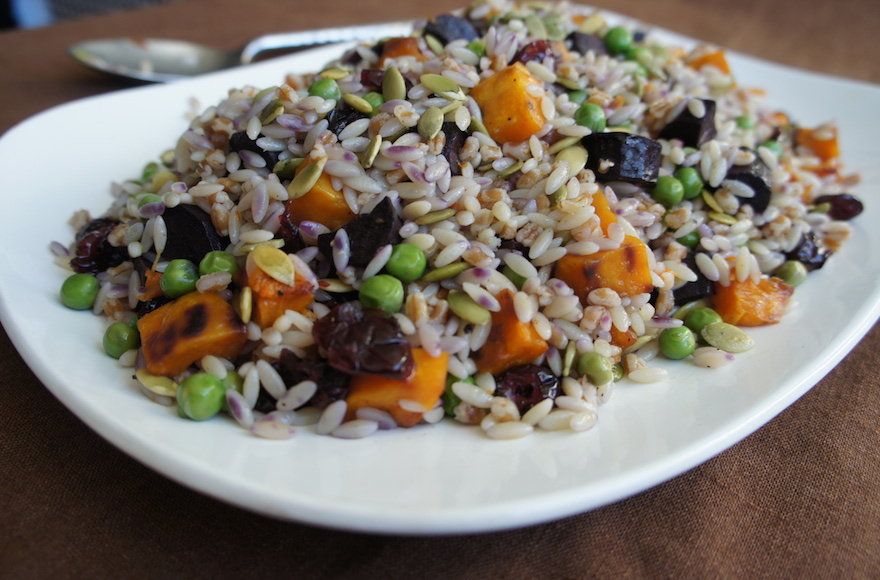 This easy side dish screams autumn, and is my way to feel like I am eating a nice bowl of pasta while also getting in a serving of whole grains and veggies. Add any combination of colorful fall vegetables that you like. The sweetness of the dried cranberries and the crunch of the pepita seeds is delicious outdoors in the sukkah on a crisp, sunny day.
Ingredients:
1 cup dry orzo pasta
1/2 cup wheatberries
1/2 medium butternut squash
2 purple carrots or 1 large beet
1/4 cup cooked peas (fresh or frozen)
1/4 cup dried cranberries
1/4 cup homemade or store-bought pepitas (you can also use slivered almonds or sunflower seeds)
olive oil
salt and pepper
Preparation:
Preheat oven to 400 degrees.
Peel butternut squash and carrots. Dice each into 1/2 inch cubes. Place butternut squash and carrots, separately, on a baking sheet, drizzle with salt and pepper. Roast for 15-20 minutes, tossing once, until carmelized.
Note: If replacing the carrot with beet, wash the beet gently and place in tin foil. Roast in oven at 400 degrees for around 45 minutes or until soft. Allow to cool and remove skin. Once beet has cooled, dice into 1/2 inch cubes.
While vegetables are roasting, bring a pot of salted water to a boil. Cook orzo around 11 minutes and drain. Drizzle with olive oil and place in a large bowl.
Cook wheatberries according to directions on package. (For 1/2 cup wheatberries, you will need around 1 cup of water. Bring water to a boil and then simmer covered for around 15 minutes).
In the large bowl with orzo, add cooked butternut squash, carrots (or beets), peas, wheatberries, cranberries, pepitas and another 1 tablespoon olive oil. Mix thoroughly. Add salt and pepper to taste. Serve room temperature or warm.
PAPRIKA ROASTED CHICKEN AND POTATOES
Yield: 4 servings
This recipe is so easy I don't even think it should count as an actual recipe. If you are serving a crowd, just double the amount. You don't have to cut the potatoes into slices if you don't want, you could just cut them into quarters and toss with paprika, salt, pepper and olive oil. But for me, there is something about chicken fat dripping onto potatoes while they roast that gets me a little excited.
Ingredients:
4-5 medium Yukon gold potatoes
4 chicken thighs and/or drumsticks
2 tablespoons smoky paprika
1/2 tablespoon hot paprika
1 teaspoon dried oregano
1 teaspoon fresh lemon juice
1 teaspoon fresh lemon zest
4 garlic cloves
1/4 cup olive oil
Salt and pepper
Preparation:
Preheat oven to 400 degrees.
Slice potatoes into 1/2-inch slices.
Grease the bottom of a Pyrex dish.
Lay potatoes on bottom of pan. Sprinkle with salt and pepper and a drizzle of olive oil.
Whisk together spices, lemon juice, zest and olive oil. Spread all over the chicken including underneath the skin. Allow to marinate for 30 minutes if you have time, though not necessary.
Place chicken and whole garlic cloves on top of potatoes.
Roast for 50-55 minutes, or until juices run clear and a meat thermometer reads 160 degrees.
Remove chicken and set aside. If you want your potatoes crispier, you can place back in the oven for another 10-15 minutes or until desired doneness.
OATMEAL COOKIES WITH CHOCOLATE AND DRIED CHERRIES
Yield: 1 dozen cookies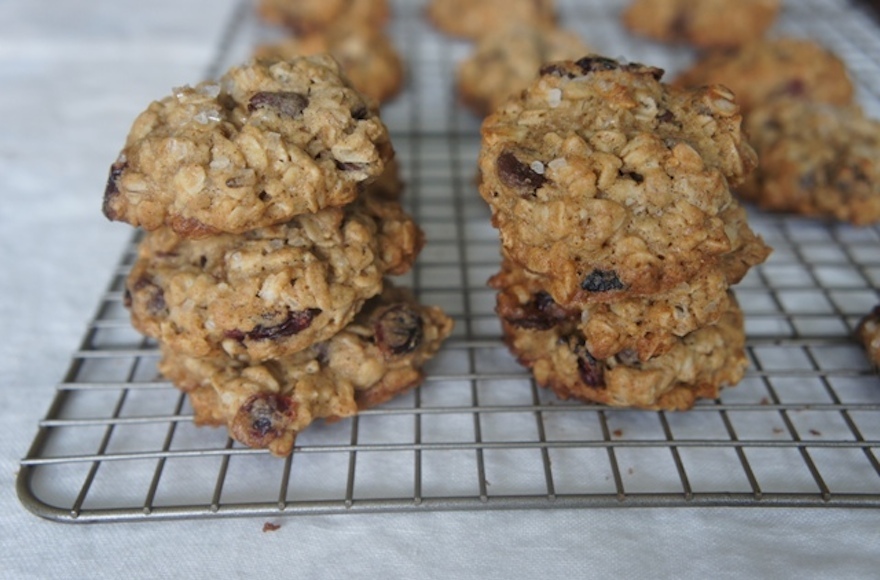 I love chewy oatmeal raisin cookies. But when you combine tart, dried cherries with dark chocolate chips, you get a truly unique cookie that your guests will rave about. These cookies are great pareve or dairy and can me made a few days ahead of time.
Tip: To bring out the sweetness of cookies, don't forget the salt! Combine 1/2 tablespoon thick sea salt with 1/2 tablespoon sanding sugar and sprinkle just a pinch on each cookie. The sanding sugar with make the cookies look beautiful and the salt will really add a depth of flavor and bring out the cookie's sweetness.
Ingredients:
1 3/4 cups old-fashioned rolled oats
3/4 cup flour
3/4 teaspoon cinnamon
1/2 teaspoon baking soda
1/2 teaspoon salt
1 1/4 sticks unsalted butter or margarine, softened
1/3 cup packed light brown sugar
1/3 cup granulated sugar
1 egg
1/2 teaspoon vanilla
1/2 cup semi-sweet chocolate chips
1/2 cup dried cherries
1/2 tablespoon thick sea salt (optional)
1/2 tablespoon sanding sugar (optional)
Preparation:
Preheat oven to 375 degrees.
Combine oats, flour, cinnamon, baking soda and salt in a medium bowl. Beat butter or margarine with sugars with a mixer until light and fluffy. Add egg and vanilla.
Add dry ingredients to wet ingredients until just combine. Fold in the chocolate chips and cherries (or other add-ins). Don't overmix. In a small bowl combine sanding sugar and sea salt.
Using a cookie scoop, drop cookies on a baking sheet 2 inches apart. Lightly flatten cookies with moistened fingers. Sprinkle a pinch of sea salt and sugar on top of each cookie.
Bake for 10-12 minutes or until golden. Let cool for 2 or 3 minutes on baking sheet and then transfer to cooling racks.
 (Shannon Sarna is the editor of The Nosher, a 70 Faces Media company.)