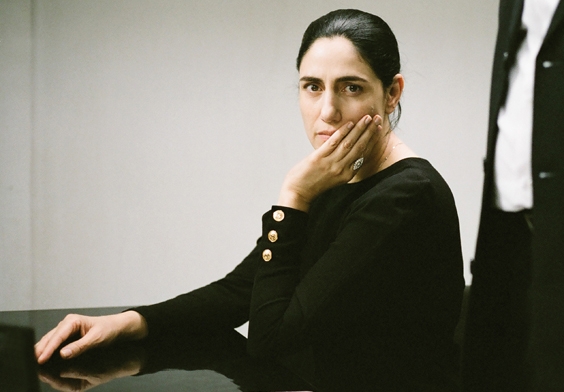 In Ronit and Shlomi Elkabetz's film Gett: The Trial of Viviane Ansalem, the heroine of the title finds herself imprisoned in a system that makes no sense: her marriage and the legal system meant to help her get out of it.
In Israel, marriages are still governed by religious courts, whether or not the couple is Orthodox. For a couple to divorce, a man must agree to the separation and serve his wife a get. If he refuses, the wife becomes an agunah, a chained woman – wanting out of her marriage but bound to her husband. The film follows Viviane (played by writer/director Ronit Elkabetz) as her husband refuses her the legal writ of Jewish religious divorce and their case languishes five years in rabbinic courts.
Often, we see Viviane not on her own terms, as a woman fighting an antiquated system, but through the gaze of the many men who observe her in the courtroom: in their eyes, she is sexualized, irrational, and negligent, but rarely human. If the film sometimes suffers from an imitative fallacy – dragging to make us feel how the trial drags for Viviane – it succeeds in painting the torturous portrait of a woman's will to be free.
Gett opens in New York this Friday, February 13.
___
» Watch the trailer.
» Read more about the brother-sister directing team.
» The world's most famous agunah.
» Discover why one couple is signing a post-nup, to raise awareness.
___

Watch the trailer of Gett: The Trial of Vivienne Ansalem: