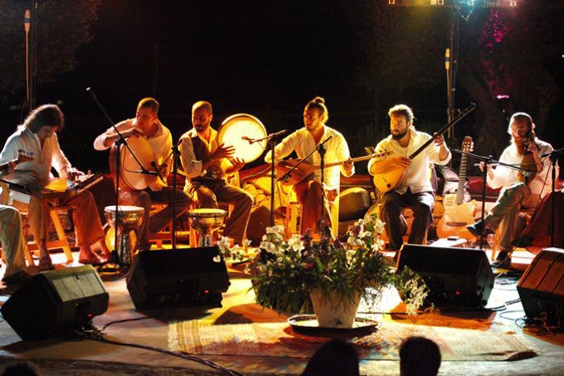 Can music change the world? Create peace? For some, that might be marketing copy. For the members of Diwan Saz, an incredibly skilled multi-faith and multi-ethnic 9-piece band, it seems to be an earnestly held belief. Part of its name, "diwan," means "coming together of people" in Turkish, and Diwan Saz practices what it preaches: its members are Christian, Muslim, Jewish; Bedouin, Turkish, Israeli, Palestinian, and Iranian, and bring together these often tense strands of the Middle East to embrace the common influences behind many of the region's musical traditions.
At a recent concert in New York, the last stop on the band's North American tour, they opened with layered, hypnotic vocals on a version of "Eliyahu Hanavi" and moved on to several songs sung powerfully in Arabic by their 14-year-old sometime-lead singer (and "Arab Idol" winner) Muhammad Gadir.
Besides the traditional saz, the band also showcases stellar qanun player Mumim Sesler and percussionist Eyal Luman, whose solos alone feel like an call to action. Even the most fertile jam session may not cool heads of state, but there's no question that under the influence of these master musicians, peace feels like a party.
__ 
» Watch Diwan Saz in action
» Buy the album
» Discover who Elijah the Prophet was, anyway
» Learn more about Middle Eastern music
___

Watch a gorgeous clip from a 2014 Diwan Saz concert in Jerusalem:

Watch this gorgeous demonstration of a qanun:
(Images courtesy Diwan Saz.)