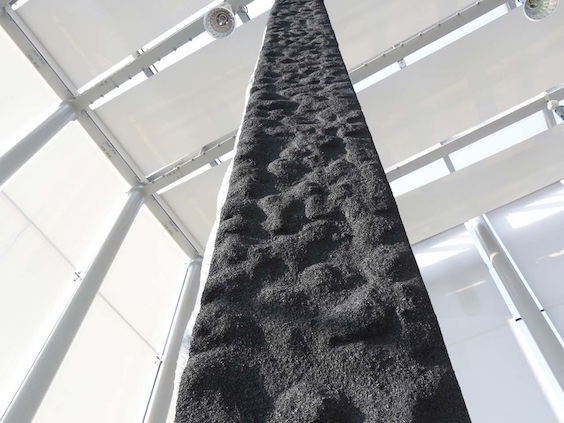 With his arresting sculptural installation "Pillar of Ash," NYC-based Israeli artist Romy Achituv responds to two harrowing attacks by Jewish extremists in Israel this summer: the arson of the Palestinian Dawabshe family home, resulting in the deaths of a toddler and his two young parents, and the stabbing of 16-year-old Shira Banki at Jerusalem's Pride march.
"Pillar of Ash," a looming, 28-foot structure made up of suction fans and black ash was exhibited this August in Seoul, South Korea, and evokes a verse from Exodus about the Israelites' desert wandering:
"And the Lord went before them by day in a pillar of a cloud, to lead them the way; and by night in a pillar of fire, that they might go by day and by night."
Achituv's pillar, which is both cloud-like and, as ash, is the product of fire, calls out the danger of the extremists' vision. Who, or what is the god who leads them? Exposed suction tubes enhance the sense that we're witnessing the continuous effort that feeds such extremist ideology.
The installation is Achituv's second about the summer of violence: immediately following the attacks, he and writer Ilana Sichel (who edits this blog), created traditional Jewish mourning notices for the victims. Like that initiative, "Pillar of Ash" puts the violence in a religious context: Do the perpetrators lay claim to the same God as the victims?
(Watch the ash collapse in the video here.)