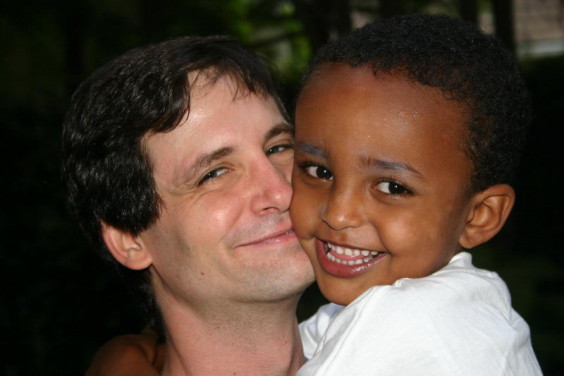 It's not easy raising a child, but when Claude Knobler and his wife adopted Nati, a five-year-old Ethiopian boy, they faced some unique challenges. Knobler met Nati, whose parents were dying of AIDS, in an Addis Ababa orphanage. Already the parents of two children, it took the Knoblers several years to let their adopted son be himself: goofy, loud, and far different than his neurotic Jewish father.
More Love, Less Panic is Knobler's distillation of the lessons of parenting: mainly, letting go of expectations that your kid is going to turn out like you. The book also addresses the racism that young men of color often face: Nati gets punished more severely at school for fighting with a white boy, even though the other boy started it. Strangers shake his white siblings' hands but ask Nati for a high-five.
"How great would it be if you could just enjoy your children without thinking their destinies were in your hand," asked Knobler in an interview with KCRW's Press Play. "What if they were already who they are going to be?" In other words, raise your kids like they're your grandkids. And stop worrying so much.
___
» Buy More Love, Less Panic
» Listen to an interview with Claude Knobler
» Discover how Knobler's Holocaust-survivor mother inspired him to adopt his son
» Find out how Knobler taught Nati how to deal with racism