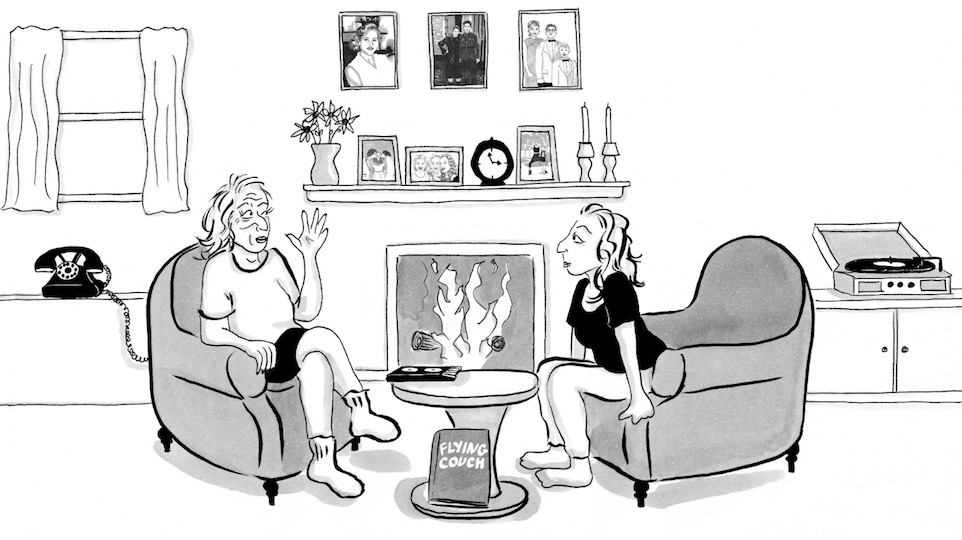 Amy Kurzweil's The Flying Couch is an engrossing, graphic new take on a rich topic: third-generation reckoning with the legacy of the Holocaust. Through whimsical and moving cartoons, Kurzweil weaves together her own hypochondriacal girlhood, her grandmother's experience of escaping the Warsaw Ghetto by disguising herself as a gentile, and the way her Bubbe's stories have shaped her own journey to adulthood.
Kurzweil isn't afraid to cast Bubbe, as she calls her, in a gently mocking light—she has a penchant for picking up cans thrown in the trash to redeem—but the story, animated for this adorable book trailer, is told with love.
As a college student trying to figure out what being Jewish meant to her, Kurzweil read archived interviews with her grandmother. In one scene, we see Kurzweil trying, to no avail, to fit herself into cutout images of the "Ardent Pro-Israel Jew," the "Radical Anti-Zionist Jew," The "Politically and Cultural Apathetic Jew," and the "Expert Educated Jew," but she realizes that her Jewish identity is so much more idiosyncratic and personal than any of those categories. So much more about…Bubbe.
Ultimately, Kurzweil asks what understanding family history does to a person's Jewish identity. Kurzweil's style—particularly her illustrations of family portraits—is moving and evocative, and reminds us that the legacy of the Holocaust is still personal, even these seven decades later.