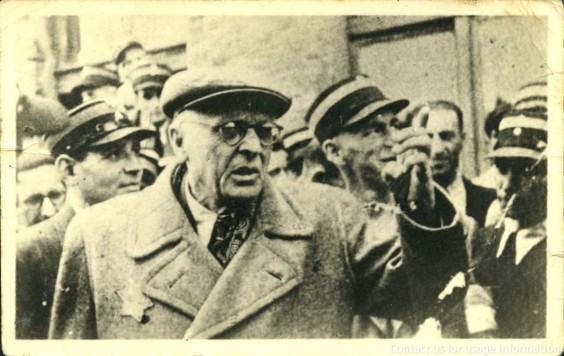 Seventy-one years ago today, on August 28, 1944, Jewish Sonderkommando Auschwitz inmates beat to death a man named Chaim Mordechai Rumkowski.
Rumkowski, the former head of the Lodz Ghetto's Council of Elders, is still the topic of debate: Was he a decent man working for the safety of the ghetto's Jews—or was he simply a ruthless Nazi collaborator?
A businessman, Rumkowski lorded over the Lodz Ghetto like a dictator. According to memoirs and documents, Rumkowski was power-hungry, impulsive, and cruel; he terrorized those who opposed him. Though he tried in vain to reduce deportations, he still commanded, in an infamous speech, to turn over the children.
Reminiscent of the infamous "Arbeit macht frei" sign at Auschwitz, Rumkowski believed that salvation for the Lodz Jews could be obtained through work. He persuaded the Germans to provide materials for the Jews for industry, and in return received food. He also created an infrastructure of schools, hospitals, and postal system.
In the end, the Lodz Ghetto was the last in Eastern Europe to be liquidated; 7,000 ghetto residents lived to see the end of the war. Some credit Rumkowski. Others curse him still.