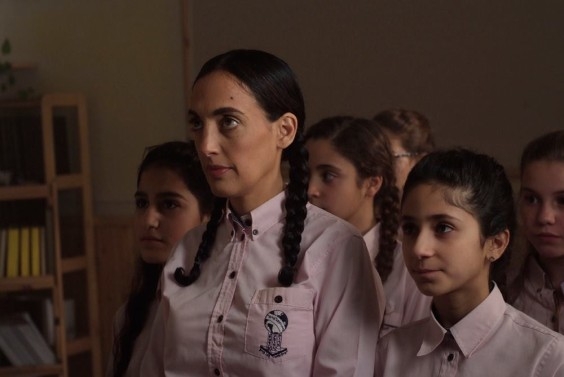 There's a video that's been making the Internet rounds this past week of Israeli vocal artist Victoria Hanna's strange and captivating new song. In the video for "Aleph-bet (Hosha'ana)", she's dressed as a teacher at the head of a classroom of schoolgirls who recite the Hebrew alphabet after her. As the song picks up pace, she chants the prayer for rain from the Hoshanot service on the seventh day of Sukkot.
Hanna (a stage name) was born in Jerusalem and raised by a Persian mother and Egyptian father in an Orthodox Jewish home. In the music video, Hanna points to various parts of her body while she and the class chant the alphabet. It's a reference to the Kabbalistic book Sefer Yetzirah, the Book of Creation, which assigns certain natural elements, gifts of character, and body parts to each letter.
At points in the song, her voice is looped in quick repetition. It refers to her own childhood stutter, which she said launched her exploration of the physicality of speech. There's a lot to think about, but it's her unique vocal delivery and the catchy hip-hop beat from Israeli musician Tamir Muskat (of Balkan Beat Box) that makes this a song that'll quickly get stuck in your head.
___
» Watch the video for "Aleph-bet (Hosha'ana)"
» Hear Tablet's interview with Victoria Hanna about the creation of the song
» Listen to Hanna describe the links between neuroscience and Hebrew vowels
» Read more about the Kabbalistic interpretation of letters
___

Watch Victoria Hanna's unforgettable music video:


Listen to Hanna describe the links between neuroscience and Hebrew vowels at a Jerusalem conference: