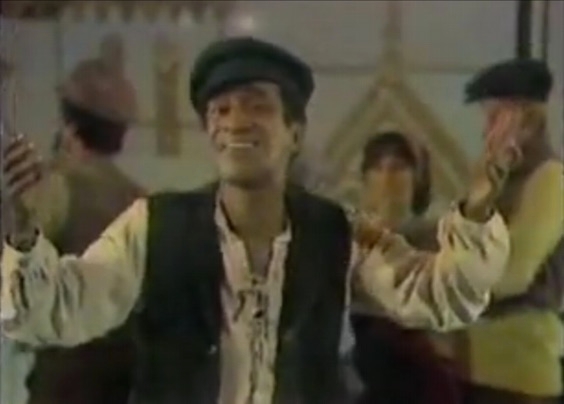 Sammy Davis, Jr., the singer, tap-dancer, and entertainer, converted to Judaism in 1961, at the age of 36. He was passionate about his adopted religion, and remained so his entire life.
Nevertheless, he always had a sense of humor about his conversion, too. While hosting the Academy Awards in 1971, he told the crowd, "Tonight, the Academy honors both my peoples–with Fiddler on the Roof and Shaft." It wasn't just empty boasting–Davis has also performed, in full shtetl drag, the song "If I Was a Rich Man."
It wasn't Davis Jr.'s first musical theatre role, nor was it his first collaboration with Fiddler–he and Fiddler composer Jerry Bock worked together on the Broadway revue Catch a Star, and Bock later wrote music for Davis' revue Mr. Wonderful.
In his 1965 autobiography Yes I Can, Davis devotes several meaty chapters to talking about the philosophical role of Judaism in his life. And as much as his religion inspired him, it also caused him even more tzuris than he'd already encountered: he was fond of telling how, once, he took a public bus in the South and was told that Black people had to sit in the back. "But I'm Jewish," he told the driver, who replied: "Then get off!"