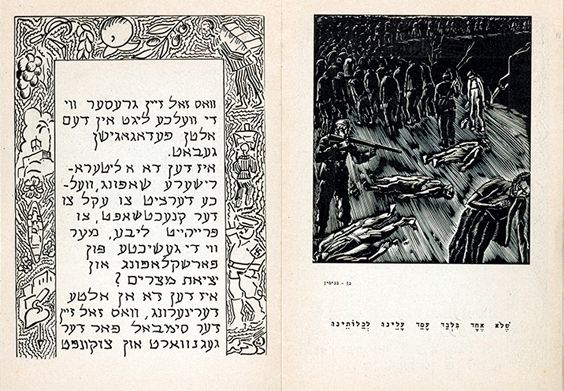 When Rabbi Abraham Klausner—a U.S. Army chaplain stationed in Munich after liberation—was planning the first seder for survivors after the war, he came across a haggadah created by survivors, for survivors.
The haggadah, humbly titled a "Supplement to the Passover Seder," was put together by survivors and displaced persons around Munich and is now a part of the U.S. Holocaust Memorial Museum's collection.
It gorgeously interweaves woodcuttings and illustrations with parallels between the experiences of Holocaust survivors and those of the Jews of Egypt.
Klausner's gratitude for the role of the Allied forces in liberation is evident: a patriotic introduction by the chaplain makes sure to recognize the Allies as the liberators of the Jewish people. Even the cover, which features the insignia of the U.S. Third Army—the occupying force in southern Germany—follows in the same vein.
The parallels speak for themselves. One page of the haggadah features the line, "We were slaves to Hitler in Germany."
And, later, "We were slaves to Pharaoh in Egypt."
But perhaps most profound of all might by the inclusion of a quote from traditional haggadah text: "In every generation, one must see oneself as if he or she personally went out from Egypt."
The illustrations juxtapose pyramids with barbed wire, making this seder very different from other seders.
___
» Discover the true history of the Maxwell House Haggadah
» Buy a copy of the Haggadah
» Gaze at a beautiful graphic novel about a Holocaust survivor