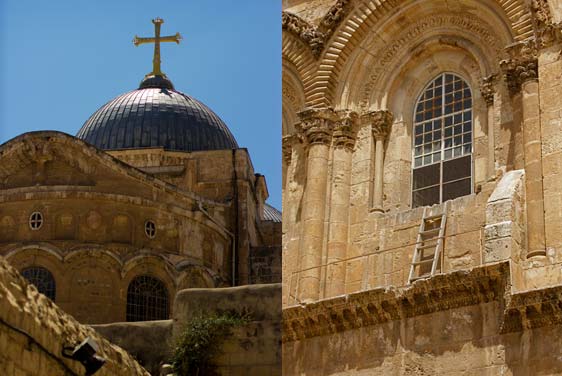 If you're feeling lonely on this most Christian of days, just think of all that Jews and Christians have in common. Namely: in-fighting.
In the Church of the Holy Sepulchre, located in Jerusalem's Old City, stands, or rather leans, a ladder. But this isn't any ladder—this is the Immovable Ladder.
First mentioned in 1757, the Immovable Ladder isn't immovable because of Christian myth, or miracle, or magic. It's not a sword-in-the-stone situation. This 250+ year-old-ladder is immovable because no changes can be made to the church without the consent of all six of the denominations that care for it. And, as with our own sages, disagreements are common.
You see, the ladder is inconsequential. Who put it there, what minor repair it was used for—no one cares. What each of the sects do care about, however, is that no one does anything out of line. Case in point: in 2002, a Coptic monk moved his chair 20cm out of the sun, and, consequently, out of the Coptic-controlled part of the church. A fistfight broke out. People were hospitalized.
Over the years the Immovable Ladder has taken on a symbolic gravitas. In 1964, Pope Paul VI decreed that it would remain in place until a state of ecumenism was reached. But we're not holding our breaths.
Ladder image courtesy Seetheholyland.net.