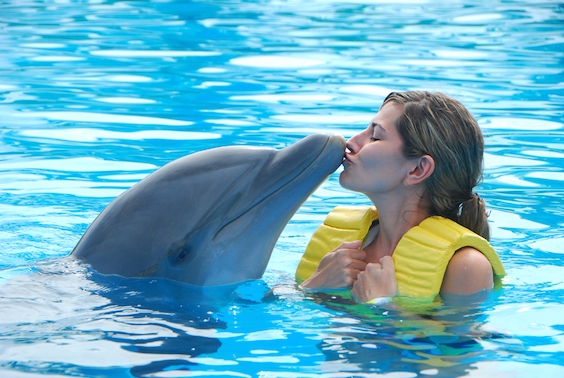 Worried, as some perennially are, that the legalization of gay marriage will result in a slippery slope, permitting humans to marry with all manner of flora and fauna? Well, the situation may have gotten dire long before the elimination of the Defense of Marriage Act: in 2006, British Jewish millionaire Sharon Tendler married her fellow mammal Cindy (short for Cinderella), a dolphin, at the Eilat Reef.
Tendler's and Cindy's was a long engagement – the inter-species pair had waited 15 years to wed, in keeping with strict cetacean religious codes and also because dolphin-human marriage is not yet legal in Israel. When the big day arrived, she and Cindy tied the knot with a conflict-free fillet of herring. (Cindy continued to use his given name professionally).
Sadly, their bliss was not long for this world. Cindy went to his watery grave not six months after the union was blessed, at the age of 40 (old for a dolphin). Nearly a decade later, Tendler has likely moved on. But a certain conservative sliver of the Internet, fretting about just who (or what) might fill the "Applicant 1 and Applicant 2" slots, has not.