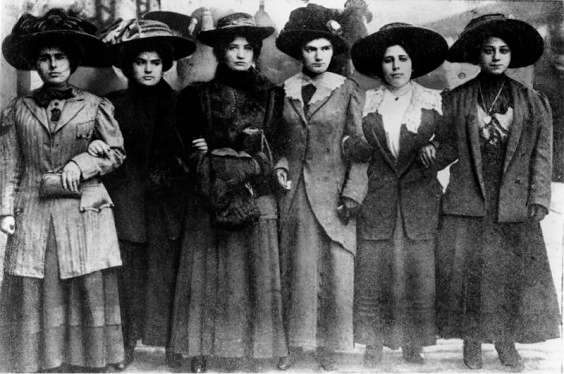 If on Labor Day you hadn't already thanked a union for your weekends and overtime, here's your chance to make amends. This month marks the 106th anniversary of the International Ladies Garment Worker Union strike of 1909, whose leaders — mostly young Jewish immigrant women — stood up to grueling working conditions and unfair pay.
In the early 1900s, Jewish women made up 70% of garment workers in major cities like Chicago and New York. These women were no strangers to activism: many of them had roots in the Bund, the Jewish workers' union in Eastern Europe, and some had joined the women's suffrage movement in America. So in 1909, after suffering through 70+ hour workweeks, the abuse of bosses, and the requirement that they provide their own sewing materials, young women like Clara Lemlich, Rose Schneiderman, and Bessie Abramovitz stepped up.
The battle was not easy. After weeks of taunting from passersby, hunger, and arrests, the women's spirits began to flag. But by early 1910, the press, clergy, and a cadre of progressive leaders had begun to rally behind the garment workers — factory leaders couldn't completely ignore public opinion. The resulting bargaining victory seemed huge: 52-hour workweeks with four paid holidays. Next time you find yourself with a Monday off, don't thank God, thank the ILGWU.
Photo Credit: The Kheel Center for Labor-Management Documentation and Archives at Cornell University